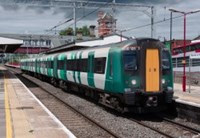 Abellio, JR East and Mitsui have today announced that London Northwestern will replace London Midland's west coast services for the next West Midlands rail franchise, which starts on 10 December.
London Northwestern is designed to reflect the increasing economic power and growth of the north western corridor – whilst placing the west midlands at its heart.
The new brand presents a contemporary take on the original heritage of the line, representing a credible alternative to existing operators, with a company parentage that includes international railway operators of Holland and Japan.
All remaining London Midland services, operating in and around Birmingham, will be rebranded to West Midlands Railway. This brand was announced last year, after being created by the West Midlands Combined Authority to better serve its local customer base.
London Northwestern and West Midlands Railway will offer two fresh propositions for its customers who are part of the driving economic force of Britain. The business units will have a shared management board, while being closely aligned to their regional and route specific service requirements.
The introduction of two new, separate, railway brands is to enable potential devolution of the west midlands routes to the West Midlands Combined Authority. London Northwestern would remain under the remit of the Department for Transport for future retender.
The current changes are a part of the near £1bn of investment into the network over the next nine years by Abellio, JR East and Mitsui. This includes £680m on new trains, produced by Bombardier and CAF and £70m on new depots.
Dominic Booth, Managing Director of Abellio UK said:
"We are delighted to bring the London Northwestern brand to a whole new generation of passengers, and it seems apt during a time of record investment into the railways.
"This is all part of the £1bn of improvements we are delivering to the network over the coming years."
About the new West Midlands franchise
Abellio UK, JR East and Mitsui will be running the next West Midlands rail franchise from 10 December 2017 until 2025/6. Abellio has a 70.1% share of the company and JR East and Mitsui own the remaining 29.9% in a 50:50 split.
About Abellio
Abellio is the international passenger transport subsidiary of the Dutch national railway company, Nederlandse Spoorwegen. Every day our people provide rail, bus and tram services to 1.3m customers across the UK and Germany. In the UK we operate buses through Abellio London, as well as ScotRail, Greater Anglia (in a joint venture with Mitsui) and Merseyrail (in a joint venture with Serco). In Germany we operate Abellio Deutschland, serving communities in North Rhine Westphalia, Saxony, Lower Saxony, Saxony-Anhalt, Hesse and Thuringia. Our role in transport extends beyond the journey from a-to-b. With our international heritage and our policy of sharing best practice, not just amongst ourselves, but across the wider transport industry, we provide thought leadership and truly innovative ideas which make a positive contribution to the communities we serve. For more information on Abellio visitwww.abellio.com.
About JR East
East Japan Railway Company (JR East) was established in 1987, when Japanese National Railways was divided as part of a package of railway reforms. JR East's railway business covers a 7,500 km (approx. 4,660 miles)network in the eastern part of the Japanese main island, including Tokyo Metropolitan area, and provides transportation services, comprising urban, suburban and high speed operations, for 17 million passengers on a daily basis. JR East also undertakes non‐transport commercial activities, which account for more than 30% of the total revenue of JR East Group. JR East contributes to passengers and communities it serves by delivering high degrees of punctuality, reliability and comfort and also continues to pursue higher levels of safety and service quality through technical innovation. For more information, visit www.jreast.co.jp/e.
About Mitsui
Mitsui & Co., Ltd (Mitsui) is one of the most diversified and comprehensive trading, investment and service enterprises in the world with 139 offices in 66 countries as of March, 2017. Utilising our global operating locations, network and information resources, we are multilaterally pursuing business that ranges from product sales, worldwide logistics and financing, through to the development of major international infrastructure and other projects in the following fields: Iron & Steel Products, Mineral & Metal Resources, Infrastructure Projects, Integrated Transportation Systems, Chemicals, Energy, Food Resources, Food Products & Services, Consumer Services, IT & Communication, and Corporate Development Business. Mitsui is actively taking on challenges for global business innovation around the world. For more information, visit www.mitsui.com.