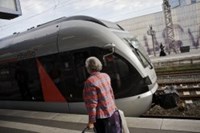 On Monday 1 August 2015, Abellio North Rhine Westphalia started operating lines RB 33 and RB 35 in preparation of the official start of the Niederrhein network in December 2016. To make the start in December successful and to secure a smooth handover from Deutsche Bahn to Abellio, both parties agreed to have an early start.
"This way we gain experience with the vehicles and the track, as well as the local conditions at the stations and enable employees to have a seamless transition," says Ronald RF Lünser, Managing Director of Abellio NRW.
Until the actual handover on 11 December, Deutsche Bahn is still the contract owner and responsible for the lines as well as the customer support.
About Abellio
175 years of experience has embedded in Abellio a social duty to passengers which extends beyond the journey on one of our trains, trams or buses. The passenger is at the heart of everything we do. The delivery of safe, reliable and comfortable services is the starting point for every transport provider, but that is not enough for Abellio. Our services must play an integrated role in the socio-economic development of the societies we serve.