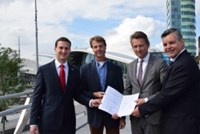 From 11 December 2016, Abellio North Rhine Westphalia will operate RE18, RB32 and RB35 on the so-called Niederrhein Network. RE19 will be a border crossing service from Düsseldorf (Germany) to Arnhem (Netherlands) and the first cross-border service is expected to be on 6 April 2017.
On Monday 5 September 2016, Abellio received the Safety Certificate Part B after Ronald Lünser, Managing Director Abellio NRW, and Wouter van Dijk from Dutch Infrastructure Manager ProRail, signed the contract which authorises Abellio to operate in the Netherlands.
"This contract is a precondition for allowing us to realise rail operations in the Netherlands. This is a crucial step for us towards a successful operation and makes me proud," said Ronald Lünser. "I am very pleased that we can offer our passengers the connection between the Rhine-Ruhr area in Germany and the province of Gelderland in the Netherlands in the near future."
About Abellio
175 years of experience has embedded in Abellio a social duty to passengers which extends beyond the journey on one of our trains, trams or buses. The passenger is at the heart of everything we do. The delivery of safe, reliable and comfortable services is the starting point for every transport provider, but that is not enough for Abellio. Our services must play an integrated role in the socio-economic development of the societies we serve.