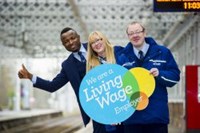 Abellio ScotRail became the sixth largest organisation in Scotland to become a Living Wage Accredited Employer.
The announcement was made on Friday 11 March, by the Transport Minister, Derek Mackay, to mark Abellio's first year operating the ScotRail franchise.
Highlights from the first year of Abellio's stewardship of Scotland's Railway include:
Committing £475m towards ScotRail's largest ever Train Improvement Programme, which will result in more trains than ever before operating on Scotland's railways.
Successfully commencing operations on the Borders Railway
Achieving a record-equaling 90% satisfaction score in the National Rail Passenger Survey
Rolling out over 5,000 smart devices to front line staff so that they are better equipped to answer customer questions
Entering into an industry leading deep Alliance with Network Rail to form the ScotRail Alliance – a joined up railway focused on the needs of the customer
The announcement regarding the Living Wage is one of 130 year one commitments made by Abellio for the first year of the franchise.
Dominic Booth, MD of Abellio UK, said:
"We were given the responsibility a year ago to deliver the Scottish government's clear vision of the role of Scotland's national railway in helping to drive the country's economic development. We are working every day to earn the faith that has been shown in us and make progress, as the record customer satisfaction figures show. But we know that there is a great deal more work still to be done. Abellio's record of partnership working rests at the heart of our commitment and is demonstrated by a deep Alliance between ScotRail and Network Rail that is focused on the needs of passengers first, last and always."
Phil Verster, MD of ScotRail Alliance, said:
"We are absolutely committed to delivering a railway that all of Scotland can be proud of. A railway that is vital to the country, not for what it is – but for what it does and for the connections that it makes. We want to make sure that ScotRail helps connect people with jobs, business with customers and our communities with opportunities to grow and prosper. While we are pleased with what we have achieved in the first year, we know that there is so much more to come. We will be delivering new and refurbished trains, more carriages, more seats and shorter journey times and we will continue to invest in our people so that they always do the very best for our customers. Paying the Living Wage is a clear sign of our commitment to our people and a recognition of how much we value our role as one of Scotland's largest employers."
Derek Mackay MSP, Minister for Transport, said:
"Scottish Ministers included Living Wage accreditation as one of the major commitments in the new ScotRail franchise agreement. It is pleasing that Abellio have today achieved this, it represents a satisfying end to a productive first year for Abellio as franchise holder. 80.5 per cent of Scots employees now receive the Living Wage or higher and the benefits to businesses who do are shown to be significant, including increased staff morale, reduced absenteeism and higher levels of productivity. We need even more organisations to recognise those benefits and sign up for accreditation and help those on the lowest pay.
"Scotland's railways have never been more popular, with more people choosing to travel by rail and ScotRail on the way to running more trains and services than ever before. At the end of the first year of the new franchise, we can see Abellio ScotRail building a strong base for some hugely exciting initiatives that lie ahead, including new trains, more seats, quicker journeys, smart tickets and more flexible, better value fares for customers."
Peter Kelly, Director of the Poverty Alliance said:
"Congratulations to Abellio on becoming the latest employer in Scotland to join the Living Wage movement. Low pay is now a significant cause of poverty in Scotland. Employers like Abellio show that action can be taken now to make a real difference. However, not only is paying the Living Wage the right thing to do, it is also good for business, with employers reporting reduced staff turnover and higher productivity. Today's announcement means a pay rise for 150 employees, and we are pleased to have another important company leading by example."

About Abellio
175 years of experience has embedded in Abellio a social duty to passengers which extends beyond the journey on one of our trains, trams or buses. The passenger is at the heart of everything we do. The delivery of safe, reliable and comfortable services is the starting point for every transport provider, but that is not enough for Abellio. Our services must play an integrated role in the socio-economic development of the societies we serve.