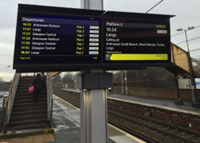 ScotRail is introducing the new DCIS (Digital Customer Information Screens) from Blackbox Company to a number of key stations. Designed to keep passengers better informed with its "information at a glance" solution, DCIS provides real-time, full-colour, animated service updates and disruption information via the cloud to High Definition (HD) displays, developed in partnership with Samsung Electronics. DCIS is the result of Abellio Group's innovation partnership with Blackbox and will deliver more information and richer content to passengers.
This project also sees the first install of Abellio Group's iPoint. Developed by Abellio, Blackbox and leading rail industry design house TDC, iPoint's modular system accommodates DCIS, CCTV, two-way communications and lighting and is designed as a single point of focus for on-platform customer information and security.
Jeremy Whitaker, Head of Commercial Development at Abellio Group said, "DCIS and iPoint are a giant step ahead of anything else on the network and allow us to deliver a new generation of on-platform services to customers more cost effectively and to much higher design standards."
About Abellio
175 years of experience has embedded in Abellio a social duty to passengers which extends beyond the journey on one of our trains, trams or buses. The passenger is at the heart of everything we do. The delivery of safe, reliable and comfortable services is the starting point for every transport provider, but that is not enough for Abellio. Our services must play an integrated role in the socio-economic development of the societies we serve.