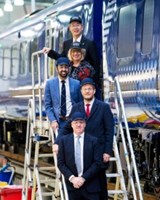 Scotland's rail revolution took another leap forward on Sunday 11 December 2016 when the ScotRail Alliance unveiled the first of its 70 new Class 385 electric trains in Glasgow.
Built by Hitachi Rail Europe at their Newton Aycliffe plant in County Durham, this first test train will begin night testing on Scotland's rail network over the coming days. These faster, longer, greener trains will come into service from September 2017, with all Edinburgh – Falkirk High – Glasgow journeys operated by the new trains from next December and the whole fleet delivered by 2019.
Based on pioneering Japanese engineering and inspired by the famous 'Shinkansen' bullet train, these new Class 385 trains will offer rail travellers in Scotland a 21st century passenger experience.
These state-of-the-art trains are lighter, because they are built with aluminium and without heavy diesel engines, which means they can accelerate faster and offer the potential for shorter journey times.
When complete, the Class 385 fleet will deliver:
234 carriages – 70 trains - providing thousands of extra seats
Shorter journey times on many routes
Smoother, quieter, greener journeys
An improved on-board customer experience, including at seat power sockets, enhanced wifi, more luggage space and improved toilets.
ScotRail and Hitachi have made swift progress from signing a contract for the new trains in March 2015, to having the first trains built and testing in August 2016. The test programme started in Velim in the Czech Republic, but now moves to Scotland and will continue to next summer.
Senior representatives from Abellio, the ScotRail Alliance and Hitachi joined Transport Minister Humza Yousaf MSP to reveal the new four-car train, and to explain the fleet's pivotal role in transforming the customer experience of rail from next year.
Humza Yousaf, Minister for Transport and the Islands said:
"The arrival of the first new class 385 train for testing in Scotland is a great milestone in this government's commitment to our railway and a tangible sign to passengers of the very real efforts we are making to improve capacity and comfort.
"Since 2007, we have introduced an extra 140 carriages with 200 more to follow by 2019; increasing the ScotRail fleet by 50%. This forms part of the Scottish Government's £5bn investment in transforming Scotland's railways and I will continue to push for improvements of this kind.
"The quality of the work being undertaken to build these new trains is second to none. The timescales in terms of gaining design sign off in July last year and having a train built and on test less than 18 months later are to be commended. It is important that this momentum is maintained by all those involved so that we can all enjoy the benefits of the first Class 385s when they enter service in autumn next year.
"I have no doubt that, once these carriages go into service, the extra space and seats will transform the experience of users and help to continue to build upon the success of ScotRail services across the country."
Dominic Booth, managing director of Abellio UK, said:
"The Class 385s are at the centre of what we are doing to improve Scotland's railways. We are confident that when they become operational, Scottish passengers will see their experience of travelling with ScotRail transformed for the better.
"These trains will help us deliver the journey times, capacity, and quality of service that our passengers deserve - especially when you take into account the wider infrastructure improvements we are making to the network."
Phil Verster, managing director of the ScotRail Alliance, said:
"Today is a landmark day as we welcome the first Class 385 train to Scotland. We now have a visible symbol of our ongoing massive rail investment, the biggest since Victorian times, one that will become a reality for our customers from next September when passenger services begin. We are delivering more seats, more services and better stations over the next few years, leading a transformation that we can all be very proud of."
Karen Boswell OBE, managing director of Hitachi Rail Europe, said:
"We are making excellent progress in our programme to deliver this fleet for Scotland. We're proud that our trains, are built in the UK with Japanese engineering expertise, will offer passengers a vastly improved 21st century travelling experience."
About Abellio
175 years of experience has embedded in Abellio a social duty to passengers which extends beyond the journey on one of our trains, trams or buses. The passenger is at the heart of everything we do. The delivery of safe, reliable and comfortable services is the starting point for every transport provider, but that is not enough for Abellio. Our services must play an integrated role in the socio-economic development of the societies we serve.