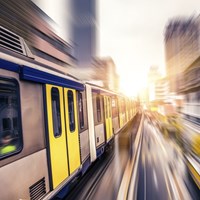 Part of largest ever privately-procured trains order in UK
An important economic boost for the East Anglian economy
Total of nearly £1.5 billion financings now completed in the 'post-Brexit vote market'
Abellio UK, recently awarded the new nine year East Anglia rail franchise by the Department for Transport, has today confirmed that it has now finalised contracts worth nearly £1.5 billion to procure and finance the replacement of all the existing trains on the franchise that starts on Sunday 16th October.
This completes the largest ever privately-procured order for trains in the UK. Two new fleets of 1,043 carriages will be introduced to the franchise between Spring 2019 and Autumn 2020, built by Bombardier in Derby (665 carriages) and Stadler in Switzerland (378 carriages). They will replace the existing fleets of trains and will create an increase of approximately 10 percent in the fleet size compared to today.
Abellio has today finalised contracts worth over £600 million to procure and finance the purchase of new Intercity and Regional train fleets from renowned Swiss train manufacturing company, Stadler. The company's FLIRT trains, which will be built for the needs and specifications of the railways of East Anglia, are already in service on the rail networks of several European countries.
Funding of these new Stadler trains was led by Rock Rail and SL Capital Partners with additional co-investment equity being provided by the Greater Manchester and London Pension Fund authorities. Debt was arranged by DC Advisory from Aviva, the European Investment Bank, Sun Life, Barings Asset Management (formerly Babson Capital), Legal & General and Standard Life Investments.
The 58 trains that make up the deal comprise 378 vehicles with a combination of Intercity Electric Multiple Units and Regional Bi-mode Multiple Units which can run under electric or diesel power. They are the first major passenger fleet order in the UK for Stadler and will run on the following routes:
InterCity services between London and Norwich
Stansted Express airport services from London to Stansted Airport
Key Regional services in East Anglia
The Stadler trains are designed to provide a significantly enhanced passenger experience that will transform rail travel for people in Norfolk, Suffolk and parts of Essex and Cambridgeshire. The FLIRT trains to be used on the East Anglia franchise will be equipped with climate-controlled air-conditioning; '2x2' seating; Wi-Fi and power points throughout the train; a low floor design, allowing easier access to platform from the train; passenger information systems with real-time information; and regenerative braking.
Commenting on the new contract, Dominic Booth, Managing Director of Abellio UK, said: "Our ambitious plans for the new franchise are centred on the largest-ever privately-funded train procurement in the UK to give the people of East Anglia high quality trains as part of a transformation of the region's railway. They will be the centrepiece of many other improvements including more frequent services, faster journeys and more capacity with 55% more seats into London in the morning peak".
Peter Jenelten, Executive Vice President and Head of Marketing & Sales of Stadler said: "I am delighted that Stadler has been chosen by Abellio East Anglia for the supply of these new trains in the prestigious UK rolling stock market. All the trains we will be delivering are derived from the latest generation of the best-selling FLIRT family, featuring low floor and level boarding for improved accessibility, passenger comfort and safety. The regional Bi-mode trains feature environmentally friendly, state of the art diesel-electric technology."
Mark Swindell, Founding Partner of Rock Rail, which has acted as the lead financier to Abellio, said: "Rock Rail is delighted to be able to work with new institutional investors, demonstrating that Rock Rail has become attractive to investors looking to invest in the UK. This includes the European Investment Bank, investing in post-BREXIT Britain and the Manchester and London pension funds. It is pleasing that Aviva have made their second investment in UK rolling stock.
"We are proud to be part of the transformation of Abellio East Anglia rail services giving a step-change for passengers with these high-quality Stadler trains."
As announced last week, Abellio has also selected Angel Trains to finance the procurement of the 665 new Bombardier Aventra train vehicles in a £900 million deal. The Bombardier Aventra trains will all be built in the UK, securing around 1,600 jobs at the company's plant in Derby. The Aventra trains will serve mainly suburban routes into London.
Angel Trains has a wealth of asset management experience and has invested more than £4.7 billion in the UK rail industry since privatisation.
Legal advice to both deals was provided by Bond Dickinson whose lead partner on the deals, Paul Coleman, said "We are delighted to have supported Abellio in the complex negotiations for these new train orders, which represent the largest ever investment by a private operator in UK rolling stock. Bond Dickinson is proud to have helped achieve this".
About Abellio
175 years of experience has embedded in Abellio a social duty to passengers which extends beyond the journey on one of our trains, trams or buses. The passenger is at the heart of everything we do. The delivery of safe, reliable and comfortable services is the starting point for every transport provider, but that is not enough for Abellio. Our services must play an integrated role in the socio-economic development of the societies we serve.