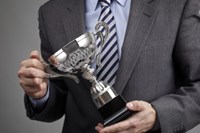 Amtrak has earned accreditation by the Emergency Management Accreditation Program (EMAP), a recognition typically awarded to federal, state, local and tribal emergency response agencies. Amtrak is the first railroad ever to earn the five-year accreditation.
To achieve voluntary accreditation, an applicant must demonstrate through self-assessment, documentation and peer assessment, verification that its program meets industry standards. EMAP recognizes the ability of emergency management programs to bring together personnel, resources and communications from a variety of agencies and organizations in preparation for and in response to an emergency, in addition to obtaining the ability to measure those capabilities.
Within Amtrak, the Emergency Management and Corporate Security (EMCS) department manages the security and preparedness program at Amtrak to help better prepare customers and employees throughout the rail system for emergencies.
"Emergency management accreditation represents a significant achievement," DJ Stadtler, Amtrak Chief Operating Officer. "We're extremely proud of members of the EMCS department for leading Amtrak through this process. Accreditation demonstrates Amtrak has put the right policies and procedures in place to allow for an efficient and effective response during emergencies. The steps taken in achieving this affirm that safety and security are a priority at Amtrak."
"Amtrak is committed to responding to a railroad incident with the same dedication and structure we use every day. Having a security and preparedness program in place and conducting training and exercises on how the program procedures flow, is one of our best defenses at Amtrak," said Susan Reinertson, Vice President of Emergency Management and Corporate Security.
The Emergency Management Standard is flexible in design so that programs of differing sizes, populations, risks and resources can use it as a blueprint for improvement and can comply with those standards in an accreditation process.
"Congratulations to Amtrak for achieving this significant accomplishment in emergency management by earning accreditation," said Robie Robinson, Executive Director of Public Safety, University of Tennessee-Chattanooga and the EMAP Commission Chair. "Through their commitment and leadership, they have demonstrated to their employees, passengers and stakeholders their program is sustainable, and safety and security are a top priority."
About EMAP
The Emergency Management Accreditation Program provides emergency management programs the opportunity to be evaluated and recognized for compliance with standards certified by the American National Standard Institute and recognized by the industry complies with the EMAP's mission to build safer communities through credible standards of excellence. These programs demonstrate accountability and focus attention on areas and issues where resources are needed to heighten their preparedness efforts to any technical or natural disaster that may affect their communities. For more information, visit EMAP.org.
About Amtrak®
Amtrak – America's Railroad® – is dedicated to safe and reliable mobility as the nation's intercity passenger rail service provider and its high-speed rail operator. With our state and commuter partners, we move people, the economy and the nation forward, carrying more than 30 million Amtrak passengers for each of the past five years. Formally known as the National Railroad Passenger Corporation, Amtrak is governed by a nine member board of directors appointed by the President of the United States and confirmed by the U.S. Senate. Anthony R. Coscia is board chairman and Jeffrey R. Moreland is vice chairman. Amtrak operates more than 300 trains daily – at speeds up to 150 mph (241 kph) – connecting more than 500 destinations in 46 states, the District of Columbia and three Canadian Provinces. Learn more at Amtrak.com or call 800-USA-RAIL for schedules, fares and other information. Check us out at blog.Amtrak.com, Like us on Facebook.com and Follow us on Twitter @Amtrak.