Northeast Corridor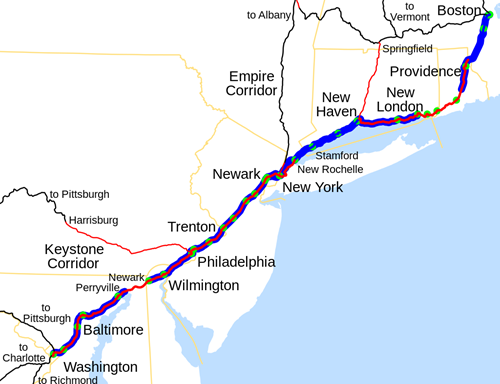 Amtrak owns and operates 363 miles of the 457-mile Northeast Corridor (NEC) between Washington and Boston (a total of 1,219 track miles)
The NEC is home to one of the busiest, most complex, and most technically advanced rail systems in the world, with over 2,000 trains on Amtrak-controlled segments each weekday. This traffic mix includes freight trains traveling at speeds of 30-50 mph, commuter trains at speeds up to 125 mph, Amtrak Regional trains at 110 or 125 mph, and Acela Express trains that can reach 150 mph. This makes it the fastest railroad in the Americas, and among the ten fastest in the world.
These trains all share tracks that often are overcrowded. Although the federally funded Northeast Corridor Improvement Project in the early 1980s greatly modernized the capital facilities of the NEC, very little was spent between 1990 and 2002, other than funds used to electrify the route north of New Haven. That changed starting in 2003, with a new emphasis placed on bringing Amtrak's equipment and infrastructure closer to a state of good repair. Amtrak began the process of ramping up a significant capital program and has made substantial progress in addressing the backlog of capital needs throughout its system.
Long Distance Trains
A National Network
The national network of long distance trains ties the nation together, reduces the costs attributable to other Amtrak routes due to sharing of facilities and services, and serves as a foundation for the growth of shorter distance high-speed and conventional intercity corridor trains.
A Vital Transportation Mode
Long distance trains provide a vital transportation service for those unable to fly or drive, and for many senior citizens (who account for 38 percent of adult passengers) and disabled persons. Amtrak in fiscal year 2010 rode long distance trains. They are often the only transportation mode still operating during severe winter weather conditions that ground planes and close highways. Long distance trains also play an important role in emergency situations: they accommodated thousands of stranded airline passengers after the terrorist attacks of September 11, 2001.
Corridor & State Trains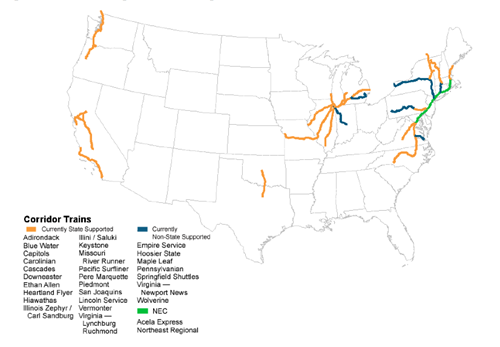 Amtrak's corridor services operate over a 6,000-mile route system and serve 23 states, primarily in the Northeast, Midwest and along the Pacific Coast. In FY 2011, 20 of the 27 state-supported corridor services set annual ridership records.
Over 500,000 annual riders
Cascades—Vancouver-Seattle-Portland- Eugene
Downeaster—Boston-Portland, ME
Hiawathas—Chicago-Milwaukee
Lincoln Service—Chicago-St. Louis
Newport News Service—Washington- Newport News
Wolverines—Chicago-Detroit-Pontiac
Over 1 million annual riders
Capitols—San Jose-Oakland- Sacramento-Auburn
Empire Service—New York-Albany- Buffalo-Toronto
Keystones—New York-Philadelphia- Harrisburg
Pacific Surfliner—San Diego-Los Angeles-San Luis Obispo
San Joaquin—Oakland-Fresno- Bakersfield