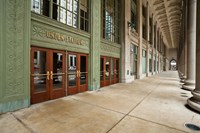 As part of the ongoing work to improve Chicago Union Station, Amtrak, Mayor Rahm Emanuel and Chicago area transportation leaders from Metra and the Regional Transportation Authority (RTA) announced today a set of initiatives aimed at advancing the master plan to redevelop the station. The initiatives announced today include a Request for Proposal (RFP) for designing the major improvements and a Request for Information (RFI) for a master developer to lead redevelopment efforts.
In addition, $14 million in Amtrak-funded 2015-16 improvements were unveiled, including the completion of the restoration of the station's grand staircases and plans for a new passenger lounge to open next summer with direct access from Canal Street "Chicago Union Station is an enormous asset to Amtrak as well as the City of Chicago," said Stephen Gardner, Amtrak Executive Vice President/Chief of Business Development. "Amtrak is committed to working in partnership with our stakeholders to launch strategies and make investments that deliver value for the company and help realize the full vision a vibrant transportation hub interwoven within an integrated mixed-use urban district."
"Union Station provides an essential link to jobs and economic opportunities for Chicagoans. Modernizing Union Station is a positive development for residents, travelers, and businesses across the city," said Mayor Emanuel. "This is another step forward in building a 21st century infrastructure to power Chicago's growing economy, and an opportunity to strengthen the investments we've made in the West Loop and surrounding neighborhoods."
Near-Term Improvements
Gardner and the Mayor said Amtrak, the City of Chicago, Metra and the RTA have agreed to jointly fund design services for improvements to address the most immediate passenger capacity, service, safety, accessibility, and mobility issues at and around the station. These 13 near-term (Phase 1) improvements were identified in the City-led master plan.
This will advance work for renovation of an expanded concourse, expanded and added entrances, widening of platforms, disabilities compliance, pedestrian passageways and consider ventilation needs in the track and platform areas.
"I understand the importance of this work on Union Station as both RTA Chairman and as a rider," said RTA Chairman Kirk Dillard. "I take Metra in and out of Union Station daily. It is a key transit station that serves Metra as well as CTA and now Pace Bus on Shoulder express riders. We must move this project forward both to restore this iconic building to its former glory and to assure the safety and comfort of our customers."
"This is a significant step towards a revamped Union Station, which will provide new and wider and therefore safer platforms for more than 50,000 daily Metra riders and new concourses to facilitate safe and quick pedestrian movement so riders can more easily get to and from their trains," said Metra Chairman Martin Oberman.
The work to advance these improvements, called Phase 1A, includes planning, historic review and preliminary engineering services, up to 30 percent design, with an option to complete. A Request for Proposals (RFP) for a consultant to provide these services is on procurement.Amtrak.com, with a selection to be made this winter and design work is expected to be completed in 2017.
Master Development (RFI)
An Amtrak Request for Information (RFI) is also posted on Amtrak.com and sent to local, regional and national developers includes the opportunity to redevelop the Amtrak-owned station and surrounding land parcels, as well as improvements to both passenger and employee facilities – all integrated with the surrounding neighborhoods.
The RFI represents the first step in the evaluation of interested parties capable of all aspects of project delivery including an implementable Master Development Plan, design, construction, financing the potential operation and maintenance of non-rail assets, as well as identification of expansion opportunities and commercial development in surrounding areas in the West Loop.
The RFI and future phases of the Master Development process is part of a larger corporate program to leverage the substantial Amtrak asset portfolio. Focused on innovative strategies for sustainable financial performance and infrastructure reinvestment, this program includes additional future opportunities at other Amtrak-owned properties that will undergo a similar Master Development process.
Immediate Improvements
Gardner, standing in front of one of the just-renovated landmark staircases, also released plans for Amtrak-funded station improvements. These include the relocation of a passenger lounge in order to double the space available for business class and sleeping-car passengers and to allow expansion of coach seating at the concourse level; replacement of door systems and heating upgrades; restoration of the 219-foot-long barrel- vaulted skylight that soars 115 feet over the Great Hall; and the creation of banquet and event space in the former women's lounge. These projects will be finished by the end of 2016 and will help reestablish the Great Hall as a key passenger service location.
Reaction from the Illinois Congressional Delegation
"Union Station serves as the gateway to Chicago for thousands of commuters and visitors every day. I commend Mayor Emanuel and Amtrak for having the vision to reimagine a Union Station that is safer and more efficient for all passengers. The initiatives announced today will help improve the passenger experience inside the station and help Union Station remain an economic engine for Chicago for many decades to come," said Sen. Dick Durbin. "The economic potential of Union Station can be realized under the Mayor's development plan. I have contacted the Secretary of Transportation to make sure the city can access an under- utilized loan program to enable further expansion," said Sen. Mark Kirk.
"Union Station is a vital transportation center for hundreds of thousands of people in the region and the improvements announced today will improve the experience of everyone who uses it. As the House Transportation Committee works on the Highway and Transit reauthorization bill next week and on future transportation legislation, I will do everything I can to further revitalize Union Station and the surrounding area," said Rep. Dan Lipinski
"Chicago's Union Station is the heart of our city's rail system and a pillar of our economy. The new initiatives announced today will enhance economic competitiveness and improve the quality of life for Chicago's residents and visitors. I look forward to continuing to work with Amtrak, Metra, RTA and Mayor Emanuel to improve and grow Chicago's transportation infrastructure," said Rep. Mike Quigley.
About Amtrak®
Amtrak is America's Railroad®, the nation's intercity passenger rail service and its high-speed rail operator. Amtrak and its state and commuter partners move people, the economy and the nation forward. Formally known as the National Railroad Passenger Corporation, Amtrak is governed by a nine member board of directors appointed by the President of the United States and confirmed by the U.S. Senate. Anthony R. Coscia is board chairman and Jeffrey R. Moreland is vice chairman. In FY 2014, nearly 31 million passengers traveled on Amtrak on more than 300 daily trains – at speeds up to 150 mph (241 kph) – that connect 46 states, the District of Columbia and three Canadian Provinces.