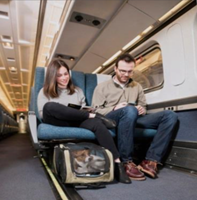 Amtrak announced today it has extended and expanded its pets program, allowing customers to continue traveling with their small pets on many eastern corridor trains. Amtrak has also added this service for trips up to 7 hours in length to most long distance trains beginning Tuesday, Feb. 16, and is starting a weekend-only pilot program on Acela Express starting, Saturday, Feb. 20.
As a result of the overwhelming success of its pilot test, Amtrak has made its program permanent on eastern and select mid-western corridor trains and expanded the program to its long distance trains throughout the nation (with the exception of the Auto Train). More than 2,700 pets have traveled with their human companions along the Northeast Corridor since the pilot launched in October 2015. Boston, New York, Philadelphia and Washington, D.C. were the top departure cities.
"We are excited to bring this service to more of our passengers throughout the country who want to travel with these cherished family members," said Amtrak President and CEO Joe Boardman. "We listened to our passengers and delivered on this program, which will also help increase ridership and revenue."
"Expanding the Pets on Trains nationwide is a win for Amtrak and for millions of American pet owners who can now depend on their rail service for their travel needs," said Rep. Jeff Denham of California. "I look forward to seeing the program's success across the country."
The Acela Express pilot program, which is initially scheduled through June 12, 2016, will be regularly reviewed for possible improvements or continuation beyond that date. Amtrak continues to welcome service animals on board at no charge.
Terms and Conditions:
Pet service at all stations (staffed and unstaffed). Only one cat or one small dog are allowed in an enclosed carrier on trips up to seven hours in length. Both pet and carrier must be a combined weight of 20 pounds. Advance reservations are required and a surcharge of $25, each way, will be assessed for travel.
About Amtrak®
Amtrak – America's Railroad® – is dedicated to safe and reliable mobility as the nation's intercity passenger rail service provider and its high-speed rail operator. With our state and commuter partners, we move people, the economy and the nation forward, carrying more than 30 million Amtrak passengers for each of the past five years. Formally known as the National Railroad Passenger Corporation, Amtrak is governed by a nine member board of directors appointed by the President of the United States and confirmed by the U.S. Senate. Anthony R. Coscia is board chairman and Jeffrey R. Moreland is vice chairman. Amtrak operates more than 300 trains daily – at speeds up to 150 mph (241 kph) – connecting more than 500 destinations in 46 states, the District of Columbia and three Canadian Provinces.