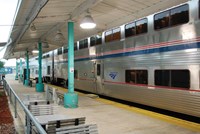 Amtrak continues to enhance the Auto Train stations in Lorton, Va., and Sanford, Fla., as part of its ongoing efforts to bring greater accessibility to its nationwide system.
Work on the level-boarding platform at the Lorton station was completed this year and provides safer and faster boarding and detraining for all customers including passengers with disabilities, or who use a wheeled mobility device, seniors and passengers with luggage and strollers. Work on the level-boarding platform at the Sanford, Fla., station is under way and is expected to be completed in early 2016.
At both stations, Amtrak has enhanced mobility by installing or rebuilding entrances, restrooms and ticket counters, as well as ensuring accessibility pathways between the parking lot, station building and platform.
"Amtrak is proud to serve as an important mode of travel for people with disabilities and recognizes that accessibility improvements benefit all passengers by eliminating barriers to travel," said Joe McHugh, Amtrak Senior Vice President/Chief Government Affairs & Corporate Communications. "We are confident we will continue to build on the progress made to date and advance a robust program of station accessibility improvements in the years to come."
The work to improve accessibility comes during the 25th anniversary of the landmark Americans with Disabilities Act (ADA). With input from station owners and stakeholders from the disability community, and state and federal officials, America's Railroad® has taken significant steps to improve the travel experience for passengers with disabilities – from trip planning, to purchasing tickets, to stations, to equipment and on-board services. -more- 
The Auto Train departs daily from both Lorton, Va. (near Washington, D.C.), and Sanford, Fla. (near Orlando). This unique service allows passengers to travel with their personal vehicles including cars, vans, SUVs, motorcycles, and even small boats or jet-skis. It is the only such service in the U.S. and eliminates nearly 900 miles of driving for travelers between the Northeast and all points in Florida. Auto Train is the longest passenger train in the world with two locomotives and 40-plus passenger rail cars and vehicle carriers. Now, both of its facilities are fully accessible and ready for the nearly quarter of a million passengers who use it.
About Amtrak
Amtrak is America's Railroad®, the nation's intercity passenger rail service and its high-speed rail operator. Amtrak and its state and commuter partners move people, the economy and the nation forward. Formally known as the National Railroad Passenger Corporation, Amtrak is governed by a nine member board of directors appointed by the President of the United States and confirmed by the U.S. Senate. Anthony R. Coscia is board chairman and Jeffrey R. Moreland is vice chairman. In FY 2014, nearly 31 million passengers traveled on Amtrak on more than 300 daily trains – at speeds up to 150 mph (241 kph) – that connect 46 states, the District of Columbia and three Canadian Provinces. Enjoy the journey® at Amtrak.com or call 800-USA-RAIL for schedules, fares and more information. Like us on Facebook, Follow us on Twitter (@Amtrak) and check out our blog at blog.amtrak.com. ## #