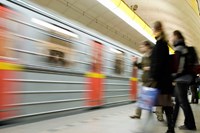 Amtrak President & CEO Joe Boardman was joined by a panel of industry experts today at the National Press Club to highlight the need to make infrastructure planning and investment a national priority.
Joined by Chicago Gateway Blue Ribbon Panel members Thomas Carper, Amtrak Board of Directors member; Howard Learner, founder of the Environmental Law and Policy Center in Chicago; and Jack Quinn, former chairman of the Railroads Subcommittee of the House Transportation and Infrastructure Committee, and president of Erie Community College, the group discussed the nation's infrastructure crisis, the growing problem of aging infrastructure and railway congestion, and most importantly funding. "Amtrak is doing what it can. But the root of the problem is lack of funding needed to address the congestion challenge that contributes to these delays," said Boardman. "Persistent underinvestment leads to congestion – and the lack of investment threatens our national economy."
Nowhere are infrastructure problems worse than in the New York and Chicago regions. As the majority owner of the Northeast Corridor (NEC), a complex commuter and intercity rail network, Amtrak depends on the infrastructure investments made today to help ensure it can deliver mobility, reliability and safety to its stakeholders in the future. Each day, 750,000 people board trains headed to work, school and other destinations making the NEC one of the largest economic drivers of our American economy.
Amtrak has completed construction on Phase I of the Hudson Yards Concrete Casing, begun construction on Phase II, and continues early planning work on the Hudson Tunnel Project. But future work on other critical components of the Gateway Program – including two new Portal Bridges and an expanded Penn Station – remain unfunded.
"We don't need to find a solution – we need to fund one," Boardman stated.
In addition to New York, Chicago is the nation's largest rail hub, with every major railroad operating through the area. The Blue Ribbon Panel was formed to make recommendations to address the Chicago rail gridlock that is causing major delays for passengers and for freight shipments. Chicago congestion problem creates an economic vulnerability of up to $799 billion every year, impacting six key industries constituting 85 percent of U.S. domestic product.
The panel recommended bringing together rail traffic control dispatchers separated by thousands of miles, improved operating practices by Amtrak and other railroads and funding for priority projects already identified in Northern Illinois and Indiana as top recommendations. "This is a fight our country needs us to win – it's time for us to build," Boardman said.
About Amtrak®
Amtrak – America's Railroad® – is dedicated to safe and reliable mobility as the nation's intercity passenger rail service provider and its high-speed rail operator. With our state and commuter partners, we move people, the economy and the nation forward, carrying more than 30 million Amtrak passengers for each of the past five years. Formally known as the National Railroad Passenger Corporation, Amtrak is governed by a nine member board of directors appointed by the President of the United States and confirmed by the U.S. Senate. Anthony R. Coscia is board chairman and Jeffrey R. Moreland is vice chairman. Amtrak operates more than 300 trains daily – at speeds up to 150 mph (241 kph) – connecting more than 500 destinations in 46 states, the District of Columbia and three Canadian Provinces.