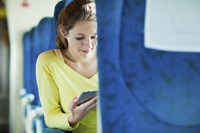 Amtrak is launching bike service on the Vermonter to provide passengers a more convenient way to travel with their bicycles. Tickets for carry-on bike service are now available for travel beginning May 1.
The Vermonter operates daily between Washington, D.C., and St. Albans, Vt., with service to Philadelphia, New York City, Hartford, Conn., Springfield, Mass. and Essex Junction, Vt., and other intermediate stops.
This service provides passengers with a way to travel with their bikes. Amtrak partnered with the Vermont Agency of Transportation, Vermont Department of Tourism, Adventure Cycling Association, and other bicycle and passenger rail groups to form an advisory bicycle task force to oversee this project.
"We've worked with the cycling community to identify solutions and bring new ideas to offer services for customers who travel with their bikes," said Deborah Stone-Wulf, Amtrak Vice President of Sales and Customer Service. "We look forward to measuring the success of this service with an eye to expansion to additional routes across our national network."
Passengers traveling with their bikes must arrive at the station 30 minutes before the train's departure to allow time for boarding. Customers must look for the "bike-friendly" sticker on the train car. Bicycles will go into the luggage compartment, which converts into a bike rack. Customers will need to remove the front wheel of their bike to fit it into the space, and loading instructions will be available in the bike rack area.
If equipped with panniers, large seat or saddle bags, the items must be removed from the bicycle before hanging it on the bike rack and stored as carry-on luggage. An Amtrak crew member will be available to assist.
"We are excited to launch the carry-on service on the Vermonter, the second project for the Amtrak Bicycle Task Force," said Virginia Sullivan, a task force member and director of Adventure Cycling Association. "Locals and visitors will be able to take advantage of the excellent cycling opportunities all along the Vermonter corridor. This service will be a major benefit and will make trips with a bicycle easier."
Reservations are required and customers must have a ticket for their bikes. The bicycle reservation fee is $20 for service between Washington D.C., and New Haven, Conn., and $10 for service between New Haven, Conn., and St. Albans, Vt. Passengers may reserve their bikes by selecting "add bike" when they book their train travel on Amtrak.com, by calling 800-USA-RAIL, or by visiting any staffed ticket office.
About Amtrak
Amtrak – America's Railroad® – is dedicated to safe and reliable mobility as the nation's intercity passenger rail service provider and its high-speed rail operator. With our state and commuter partners, we move people, the economy and the nation forward, carrying more than 30 million Amtrak passengers for each of the past five years. Formally known as the National Railroad Passenger Corporation, Amtrak is governed by a nine member board of directors appointed by the President of the United States and confirmed by the U.S. Senate. Anthony R. Coscia is board chairman and Jeffrey R. Moreland is vice chairman. Amtrak operates more than 300 trains daily – at speeds up to 150 mph (241 kph) – connecting more than 500 destinations in 46 states, the District of Columbia and three Canadian Provinces. Learn more at Amtrak.com or call 800-USA-RAIL for schedules, fares and other information. Check us out at blog.Amtrak.com, Like us on Facebook.com and Follow us on Twitter @Amtrak.