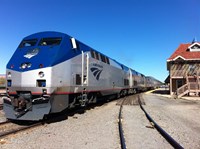 Today, Amtrak announced that it has obtained $275 million of insurance protection from PennUnion Re Ltd., an independent special purpose insurer based in Bermuda, which has issued catastrophe bonds to fund and collateralize this insurance.
The protection insures against damage to Amtrak-owned infrastructure in the critical Northeast Corridor (NEC) in the event of a natural disaster due to storm surge, wind damage or earthquake. Passenger Rail Insurance Liability, a Bermuda-based insurance company wholly- owned by Amtrak, entered into a reinsurance contract with PennUnion Re Ltd., to provide this catastrophe protection.
"This is the first time Amtrak has used the capital markets to broaden our base of insurance coverage," said Gerald Sokol, Jr., Amtrak Executive Vice President and Chief Financial Officer. "The catastrophe bond market provides us with a means to diversify our sources of insurance in a cost effective manner."
The catastrophe bonds provide a capital markets source of insurance risk capital that will provide protection in the unlikely event that a natural disaster would cause damage to Amtrak- owned infrastructure in the NEC, such as damage suffered by Amtrak from Superstorm Sandy in 2012. Superstorm Sandy created a storm surge that resulted in sea water inundating both tubes of the Hudson River tunnel and two of the four tubes of the East River tunnel, causing more than $1 billion in damage.
GC Securities, a division of MMC Securities Corp and an affiliate of Marsh and McLennan Companies, and Goldman, Sachs & Co., were joint structuring agents, joint bookrunners and initial purchasers of the Series 2015-1catastrophe bonds.
Advisors also working on the transaction include RMS, Inc., a catastrophe risk modeling firm experienced in developing pioneering trigger mechanisms for catastrophe bonds, and Mayer Brown, LLP, transaction counsel.
About Amtrak®
Amtrak is America's Railroad®, the nation's intercity passenger rail service and its high-speed rail operator. Amtrak and its state and commuter partners move people, the economy and the nation forward. Formally known as the National Railroad Passenger Corporation, Amtrak is governed by a nine member board of directors appointed by the President of the United States and confirmed by the U.S. Senate. Anthony R. Coscia is board chairman and Jeffrey R. Moreland is vice chairman. In FY 2014, nearly 31 million passengers traveled on Amtrak on more than 300 daily trains – at speeds up to 150 mph (241 kph) – that connect 46 states, the District of Columbia and three Canadian Provinces.