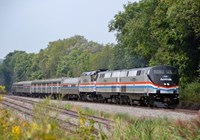 Amtrak announced today passengers will be able to travel with their small pets from Boston to Lynchburg, Newport News and Norfolk, VA on the Northeast Regional service and between Boston and Brunswick, Maine on the Downeaster route. Reservations are now available for travel beginning Monday, October 12.
After a successful launch of its pets program in Illinois, Amtrak decided to bring this highly anticipated pilot program to passengers traveling along the Northeast Corridor and New England.
"We have listened to our passengers looking for other transportation options while traveling with their pets," said Amtrak President and CEO Joe Boardman. "We are pleased to bring this pilot program to the region."
This new service allows passengers to take their pets (one cat or one small dog) in an enclosed carrier on trips up to seven hours in length. Both pet and carrier must be a combined weight of 20 pounds or less and placed under each pet owner's seat. Pets must be at least eight weeks old with current vaccination records.
"Expanding the Pets on Trains program in the Northeast Corridor is a victory for American pet owners and for Amtrak, which can now serve individuals and families traveling with small dogs and cats," said Rep. Jeff Denham of California. "This change will increase ridership and revenue for Amtrak while building on the success of the pilot program, paving the way for the future of pets on trains nationwide."
Advance reservations are required and a surcharge of $25 will be assessed for travel. Passengers must arrive 30 minutes prior to train departure to check-in at a ticket counter and sign a pet waiver form. Amtrak routinely welcomes service animals on trains at no charge and that policy is unchanged. This pilot program, which is initially scheduled through February 15, 2016, will be regularly reviewed for possible improvements or continuation beyond that date.
The Illinois pets program launched in 2014. During its first year, more than 200 animals accompanied passengers without a single complaint or incident. Upon completion of this program, continuation on the corridor and expansion to additional routes will be considered in early 2016.
About Amtrak®

Amtrak is America's Railroad®, the nation's intercity passenger rail service and its high-speed rail operator. Amtrak and its state and commuter partners move people, the economy and the nation forward. Formally known as the National Railroad Passenger Corporation, Amtrak is governed by a nine member board of directors appointed by the President of the United States and confirmed by the U.S. Senate. Anthony R. Coscia is board chairman and Jeffrey R. Moreland is vice chairman. In FY 2014, nearly 31 million passengers traveled on Amtrak on more than 300 daily trains – at speeds up to 150 mph (241 kph) – that connect 46 states, the District of Columbia and three Canadian Provinces.