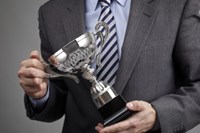 Amtrak is being recognized for its evolution into a higher-performing organization that has reduced costs, restructured performance management and differentiated pay, strengthened career growth and development opportunities, and implemented best-in-class recruitment and retention strategies.
Barry Melnkovic, Amtrak Executive Vice President, Chief Human Capital Officer, was named the 2016 HR Executive of the Year by Human Resource Executive magazine. The award recognizes leaders who have made outstanding contributions to their organizations and who exemplify the increasingly strategic role in human resources in business today. Amtrak is featured in the October issue of the magazine.
"Our transformation has been led by former President and CEO Joe Boardman and fully supported by our board of directors and executed by our leadership team. This teamwork allows us to fulfill our mission of moving America where it wants to go while ensuring our customers get a consistent, high-quality travel experience," said Melnkovic, who joined Amtrak in 2011. "At the heart of this mission are the more than 20,000 Amtrak employees who are committed to delivering intercity transportation with superior safety, customer service and financial excellence."
Boardman is now retired. Charles W. "Wick" Moorman succeeded Boardman as president and chief executive officer.
"It's no surprise of what Barry and his team have accomplished in such a short time," Boardman said. "This award is a testament to his track record of growing financial capital by investing in human capital, and the success we all have been able to achieve for Amtrak."
About Amtrak®
Amtrak – America's Railroad® – is dedicated to safe and reliable mobility as the nation's intercity passenger rail service provider and its high-speed rail operator. With our state and commuter partners, we move people, the economy and the nation forward, carrying more than 30 million Amtrak passengers for each of the past five years. Formally known as the National Railroad Passenger Corporation, Amtrak is governed by a nine member board of directors appointed by the President of the United States and confirmed by the U.S. Senate. Anthony R. Coscia is board chairman and Jeffrey R. Moreland is vice chairman. Amtrak operates more than 300 trains daily – at speeds up to 150 mph (241 kph) – connecting more than 500 destinations in 46 states, the District of Columbia and three Canadian Provinces. Learn more at Amtrak.com or call 800-USA-RAIL for schedules, fares and other information. Check us out at blog.Amtrak.com, Like us on Facebook.com and Follow us on Twitter @Amtrak.