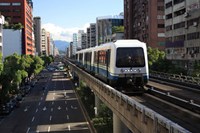 Amtrak, Brandywine Realty Trust, Drexel University, PennDOT and SEPTA today unveiled the Philadelphia 30th Street Station District Plan and announced the initiation of several follow-on projects to improve the immediate station area and catalyze future development throughout the District.
The Plan is a collaborative two-year joint planning effort to produce a single, integrated long-term vision for growth and development in the area surrounding 30th Street Station.
Forty new acres of open space and 18 million square feet of new development are envisioned in the Plan, including an entirely new mixed-use neighborhood anchoring the District atop 88 acres of rail yards along the western bank of the Schuylkill River.
With a proposed $2 billion investment in roads, utilities, parks, bridges, and extension of transit services, the Plan has the potential to unlock $4.5 billion in private real estate investment, in addition to $3.5 billion for Drexel's Schuylkill Yards project being developed by Brandywine Realty Trust. These investments will have robust and widespread economic benefits, with the potential to generate $3.8 billion in City and State taxes and 40,000 new jobs.
As outlined in the Plan, the coming months will see action on one of the most common areas of community feedback, as SEPTA starts preliminary work to support consideration of a preferred option for restoring the underground connection between 30th Street Station and its Market-Frankford Line.
"The 30th Street Station District Plan is a transformative approach," said SEPTA General Manager Jeff Knueppel. "This location is well served by the Market-Frankford Line, 5 Trolley Lines, 6 Bus Routes and all Regional Rail Lines, and the District Plan is another example of how transportation can drive economic development. SEPTA is excited to partner with Amtrak and all stakeholders to accelerate a vision that re-energizes this area and continues to meet the region's travel needs."
"The vision for 30th Street Station District complements the recently unveiled master plan for Schuylkill Yards to be developed by Drexel and Brandywine," said Drexel President John A. Fry. "Together these two developments will bring fundamental transformation to University City and become the centerpiece of America's next great innovation district, a district characterized by its superior access to transportation."
To pave the way for future development of the conceptual Arch Street Transportation Center, PennDOT will work with the Delaware Valley Regional Planning Commission to study possible changes to the I-76 on- and off-ramps at 30th Street.
"The department works hard to support development for all modes, including safer driving, walking, or riding bicycles and transit," PennDOT Secretary Leslie S. Richards said. "I am encouraged by the vision that has been created for the area around the station."
With an eye toward improving station conditions in the near-term, Amtrak will pursue funding to advance the Station Plaza concept outlined in the District Plan. Station Plaza involves the development of new public spaces on all four sides of 30th Street Station, creating a more welcoming and seamless experience for all station visitors.
Later this year, Amtrak also intends to solicit partners to develop certain property adjacent to 30th Street Station, as well as analyze and suggest station improvements including retail offerings.
"Philadelphia's iconic 30th Street Station is poised to anchor what could be a transformative new neighborhood built around transportation and the Schuylkill River waterfront," said Amtrak Board Chairman Tony Coscia. "The Amtrak team is committed to continuing the important and productive collaboration reflected in the creation of this single, integrated District Plan and will work hard to help realize the great opportunities it envisions."
"This vision is an excellent collaboration between key stakeholders to create a long term civic and economic value for Philadelphia at our regional mass transportation hub and represents the next phase in the ongoing renaissance of University City," said Jerry Sweeney, President and CEO of Brandywine Realty Trust.
Over the past two years, the project team has engaged a wide range of stakeholders from across the City of Philadelphia and its neighborhoods, soliciting feedback and synthesizing ideas collected during open houses, community events and other public meetings with the expertise of a world-class consulting team.
"Crafting meaningful consensus toward a unified vision within a multitude of stakeholder interests is hard work that requires imagination, problem-solving creativity, flexibility and perseverance," said Skidmore, Owings & Merrill Project Manager Kristopher Takács. "This journey has been a sheer delight for SOM and our world-class team of professional experts, whose leadership and collaboration have laid the foundations for a game-changing transformation."
About Amtrak
Amtrak – America's Railroad® – is dedicated to safe and reliable mobility as the nation's intercity passenger rail service provider and its high-speed rail operator. With our state and commuter partners, we move people, the economy and the nation forward, carrying more than 30 million Amtrak passengers for each of the past five years. Formally known as the National Railroad Passenger Corporation, Amtrak is governed by a nine member board of directors appointed by the President of the United States and confirmed by the U.S. Senate. Anthony R. Coscia is board chairman and Jeffrey R. Moreland is vice chairman. Amtrak operates more than 300 trains daily – at speeds up to 150 mph (241 kph) – connecting more than 500 destinations in 46 states, the District of Columbia and three Canadian Provinces.