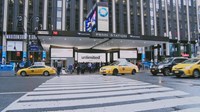 New York's Penn Station is the busiest railroad station in America, serving more than 650,000 daily commuter and intercity rail passengers on Amtrak, NJ TRANSIT, the Long Island Rail Road and the New York City Transit subway. More people use Penn Station every year than use all five New York regional airports combined. The station is the hub of the Northeast Corridor railroad, which links Boston, New York City, Washington DC and intermediate stations with connecting rail corridors serving Albany/Upstate New York, Hartford/Springfield, Harrisburg and Richmond, Va.
As a vital transportation gateway, Amtrak is committed to the continuous improvement of New York's Penn Station, and is advancing several projects to refresh and modernize the experience. These include a refresh of the station restrooms on the Amtrak concourse, as well as updates to the Amtrak ticketed waiting room and ClubAcela lounge.
Restroom Refresh
Amtrak has begun a refresh of the restrooms located on the Amtrak concourse. The updated restrooms will include durable terrazzo floors, contemporary wall tiling, updated fixtures and energy efficient lighting. New solid surface sinks will incorporate automatic soap dispensers, faucets and hand dryers.
Amtrak Ticketed Waiting Room Refresh
Amtrak is working to improve the design of the Amtrak Ticketed Waiting Room. The improvements include enhanced amenities for passengers, improved wayfinding and space organization, and the activation of the east entrance exterior wall to enhance Waiting Area visibility in the concourse. We expect to begin construction on this project in spring 2018.
ClubAcela Refresh
Amtrak is also working to improve the design of the ClubAcela lounge. Planned enhancements include an increase to the lounge size, new furniture that allows for additional seating, new lighting fixtures, refurbishment of the restrooms, additional train departure boards, a new snack counter, an expanded and reconfigured business center, and a new luggage storage area. Amtrak expects to begin construction on this project spring 2018.
The New York Penn Station Improvement Program comes on the heels of the recently completed infrastructure renewal project, and advances Amtrak's plan to modernize its stations, infrastructure and trains along the Northeast Corridor.
About Amtrak®
Amtrak – America's Railroad® – is dedicated to safe and reliable mobility as the nation's intercity passenger rail service provider and its high-speed rail operator. With our state and commuter partners, we move people, the economy and the nation forward, carrying more than 30 million Amtrak passengers for each of the past six years. Formally known as the National Railroad Passenger Corporation, Amtrak is governed by a 10-member board of directors, nine of whom are appointed by the President of the United States plus the Amtrak CEO. Anthony R. Coscia is board chairman and Jeffrey R. Moreland is vice chairman. Amtrak operates more than 300 trains daily – at speeds up to 150 mph (241 kph) – connecting more than 500 destinations in 46 states, the District of Columbia and three Canadian Provinces. Learn more at Amtrak.com or call 800-USA-RAIL for schedules, fares and other information.