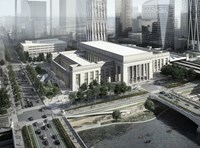 Amtrak will host an Industry Day for prospective bidders and development industry representatives interested in the master development partnership opportunity to bring to life the vision of the 30th Street Station District Plan, a road map towards an exciting new neighborhood, an incredible gateway for Philadelphia, and a center for new economic growth and opportunity. This event comes in advance of the release of a Request for Qualifications (RFQ).
Industry Day will feature a presentation on 30th Street Station improvement initiatives, an overview of next steps in the Master Developer solicitation and highlight Amtrak's overall approach to investment and development at its other major stations.
The Plan ultimately envisions an improved 30th Street Station, 40 new acres of open space and 18 million square feet of new development, including an entirely new mixed-use neighborhood anchoring the District atop 88 acres of rail yards along the western bank of the Schuylkill River. With a proposed $2 billion investment in roads, utilities, parks, bridges, and extension of transit services, the Plan has the potential to unlock $4.5 billion in private real estate investment with robust and widespread economic benefits. An estimated $3.8 billion in City and State taxes and 40,000 new jobs would be created.
Following-up on positive market indicators, Amtrak anticipates moving forward with a two-step procurement, including a RFQ, followed by a Request for Proposals (RFP) from a short-list of qualified Master Developer teams.
The solicitation for the 30th Street Station master development partnership is part of a larger corporate program to leverage Amtrak's substantial asset portfolio. Focused on innovative strategies for sustainable financial performance and infrastructure reinvestment, this program includes additional future opportunities at one or more Amtrak stations including Chicago Union Station and Baltimore Penn Station.
The Industry Day will be held at the University of Pennsylvania, Houston Hall, located at 3417 Spruce Street, Philadelphia, PA on July 28, 2017 from 10 a.m. to 1:00 p.m. and will include several Amtrak speakers, presentations, and networking opportunities.
The event is free but registration is required.
About Amtrak®
Amtrak – America's Railroad® – is dedicated to safe and reliable mobility as the nation's intercity passenger rail service provider and its high-speed rail operator. With our state and commuter partners, we move people, the economy and the nation forward, carrying more than 30 million Amtrak passengers for each of the past six years. Formally known as the National Railroad Passenger Corporation, Amtrak is governed by a 10-member board of directors, nine of whom are appointed by the President of the United States plus the Amtrak CEO. Anthony R. Coscia is board chairman and Jeffrey R. Moreland is vice chairman. Amtrak operates more than 300 trains daily – at speeds up to 150 mph (241 kph) – connecting more than 500 destinations in 46 states, the District of Columbia and three Canadian Provinces. Learn more at Amtrak.com or call 800-USA-RAIL for schedules, fares and other information.