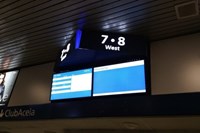 Amtrak is making a major upgrade to the busiest transit hub in America with the launch of a new, state-of-the-art Passenger Information Display System (PIDS) at Penn Station New York. The new PIDS communicates train status, origin and destination stations, boarding gate and other information and features bright, new LCD displays which are easier to read and synchronize audio and visual messaging in the station.
Strategic placement of the new displays, along with modification and eventual removal of some existing monitors – including the large train status board in the center of the concourse – provides customers access to the same information in various locations, allowing more efficient use of space in the main hall.
"The vast majority of our customers get train status information from the display boards and in-station monitors," said Mike DeCataldo, Amtrak Senior Vice President and General Manager of Northeast Corridor Operations. "The new PIDS, along with the concourse improvements under way as part of the Moynihan Station project will be a welcome upgrade to the customer experience at Penn Station. The terminal complex presents a unique set of logistical and physical challenges – some of which we believe this new system will help to address."
At either end of the main train hall, large video walls featuring departure information, visual messaging and synchronized station announcements are intended to draw waiting customers away from the center of the room, easing congestion and improving pedestrian circulation. The displays are also capable of broadcasting emergency communications and other customized messages. An additional 38 monitor sets displaying boarding information and station announcements have been or will be installed above the boarding gates on the main concourse, in the Acela Lounge, Rotunda and Amtrak waiting areas.
While Amtrak continues to work with a number of stakeholders to advance the Moynihan Station project, the upgraded PIDS is a near-term improvement that immediately enhances the customer experience. Funding was made possible through Amtrak's ADA stations initiative, but the improvements benefit all customers.
"Amtrak is committed to providing timely and accurate customer communications across all channels – in stations, on board trains, via our mobile apps and our various web-based platforms," said Lenetta McCampbell, Amtrak Senior Director, Passenger Experience. "Thanks to the hard work of a dedicated, multi-departmental team this modern system will help drive improved customer satisfaction at our most important station."
The nation's busiest transit hub, Penn Station is tremendously important to Amtrak and is the latest major Northeast Corridor station into which Amtrak is investing funds to improve the customer experience. Some 650,000 commuter and intercity passengers pass through the station each day – twice as many people as all three New York metro area airports combined.
About Amtrak®
Amtrak – America's Railroad® – is dedicated to safe and reliable mobility as the nation's intercity passenger rail service provider and its high-speed rail operator. With our state and commuter partners, we move people, the economy and the nation forward, carrying more than 30 million Amtrak passengers for each of the past five years. Formally known as the National Railroad Passenger Corporation, Amtrak is governed by a 10 member board of directors, nine of whom are appointed by the President of the United States plus the Amtrak CEO. Anthony R. Coscia is board chairman and Jeffrey R. Moreland is vice chairman. Amtrak operates more than 300 trains daily – at speeds up to 150 mph (241 kph) – connecting more than 500 destinations in 46 states, the District of Columbia and three Canadian Provinces. Learn more at Amtrak.com or call 800-USA-RAIL for schedules, fares and other information.