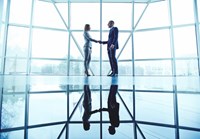 Amtrak and Lyft, the fastest growing rideshare company in the U.S., are making it easier to go more places. We know most trips don't start or end at an Amtrak station. This exciting partnership with Lyft is one of the ways we are working to make it easier for travelers to get where they're going in a safe, comfortable and convenient way.
Beginning today, customers can use the Amtrak mobile app to access the Lyft app to request a ride. New users of Lyft will receive $5 off each of their first four Lyft rides by using the promo code AMTRAKLYFT. Lyft operates in more than 360 communities across the U.S., covering 80 percent of the U.S. population and reaching 97 percent of Amtrak riders. This partnership allows for a seamless end-to-end travel experience from your doorstep to an Amtrak station.
"We are focused on improving the customer experience, and this is one way we are working to make your entire journey as seamless and enjoyable as possible," said Jason Molfetas, Executive Vice President for Marketing and Business Development for Amtrak.
"We're looking forward to working with Amtrak. As a fixture of American travel, Amtrak makes it simple and convenient for passengers, something Lyft feels passionately about as well," said David Baga, Chief Business Officer for Lyft, "Both companies have a long-standing commitment to supporting communities we serve and we're excited to grow together."
As two leaders in transportation, Amtrak and Lyft are excited about this partnership because it offers immediate benefits to travelers – and it's just the beginning. We both share a commitment to improving the travel experience and connecting with the communities we serve. Stay tuned as Amtrak and Lyft build on this partnership across the 46 state Amtrak network.
About Amtrak®
Amtrak – America's Railroad® – is dedicated to safe and reliable mobility as the nation's intercity passenger rail service provider and its high-speed rail operator. With our state and commuter partners, we move people, the economy and the nation forward, carrying more than 30 million Amtrak passengers for each of the past five years. Formally known as the National Railroad Passenger Corporation, Amtrak is governed by a 10-member board of directors, nine of whom are appointed by the President of the United States plus the Amtrak CEO. Anthony R. Coscia is board chairman and Jeffrey R. Moreland is vice chairman. Amtrak operates more than 300 trains daily – at speeds up to 150 mph (241 kph) – connecting more than 500 destinations in 46 states, the District of Columbia and three Canadian Provinces. Learn more at Amtrak.com or call 800-USA-RAIL for schedules, fares and other information.
About Lyft
As the nation's fastest-growing rideshare company, Lyft is preferred by drivers and passengers for its safe and friendly experience, and operates in more than 350 cities across the U.S. The tech disrupter transports nearly 20 million riders per month and offers its customers both scheduled and on-demand ground transportation.