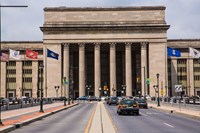 Amtrak has taken the next step toward a comprehensive redevelopment of Philadelphia 30th Street Station and adjacent properties with the release of a Request for Qualifications (RFQ) seeking a Master Developer partnership, now available at procurement.Amtrak.com.
"Philadelphia 30th Street Station is one of the most critical assets in our national network," said Rina Cutler, Amtrak Senior Director of Major Station Planning and Development. "A Master Developer partnership lays the groundwork to deliver a world-class multimodal hub on the Northeast Corridor. We are seeking an innovative partner who understands the vision for Philadelphia, respects the surrounding neighborhoods, and is excited to partner on a plan that will significantly improve the experience for all travelers, while maximizing the value of our strategic assets."
Amtrak is seeking a Master Developer partner capable of all aspects of project delivery to include design, construction, financing, operation and maintenance of non-rail assets at Philadelphia 30th Street Station, as well as expansion opportunities and commercial development of the surrounding Amtrak owned properties.
Historic 30th Street Station is the third busiest station in Amtrak's national system, serving more than 4 million Amtrak passengers and more than 12 million combined SEPTA and NJ TRANSIT rail commuters annually. With ridership predicted to double along the Northeast Corridor (NEC) by 2040, the RFQ is being issued as demand for passenger rail service continues at record levels.
In advance of the RFQ, Amtrak hosted an Industry Day at the University of Pennsylvania on July 28, 2017 to introduce prospective bidders and development industry representatives interested in the master development partnership. The session was well attended by various industry professionals and market representation and included a formal presentation and networking sessions.
Following strong industry response, Amtrak is now moving forward with a two-step procurement including the RFQ, followed by a Request for Proposals (RFP) that will be issued to a shortlist of qualified Master Developer teams. Solicitation remains open to all prospective bidders at this RFQ stage. Amtrak expects to announce the shortlist of Master Development partnership teams in early 2018.
Qualifications must be received by 3:00 pm on November 9, 2017 to be considered. For any RFQ-related questions, interested bidders should contact: Carole Owens at OwensCa@amtrak.com.
"Now with the 30th Street Station Master Developer solicitation process beginning, several of Amtrak's major stations are undergoing redevelopment," said Peter Waldt, Amtrak Senior Director Commercial Planning and Development. "These redevelopment efforts will allow Amtrak to better utilize existing assets to drive the core business, realize substantial infusions of private capital, identify new sources of revenue that can be reinvested into the system, demonstrate a more sophisticated acumen for operating as a business and, most importantly, improve the customer experience."
The solicitation for the 30th Street Station master development partnership is part of a larger corporate program to leverage Amtrak's substantial asset portfolio. Focused on innovative strategies for sustainable financial performance and infrastructure reinvestment, this program includes other opportunities being pursued at Amtrak stations such as Chicago Union Station and Baltimore Penn Station.
About Amtrak
Amtrak – America's Railroad® – is dedicated to safe and reliable mobility as the nation's intercity passenger rail service provider and its high-speed rail operator. With our state and commuter partners, we move people, the economy and the nation forward, carrying more than 30 million Amtrak passengers for each of the past six years. Formally known as the National Railroad Passenger Corporation, Amtrak is governed by a 10-member board of directors, nine of whom are appointed by the President of the United States plus the Amtrak CEO. Anthony R. Coscia is board chairman and Jeffrey R. Moreland is vice chairman. Amtrak operates more than 300 trains daily – at speeds up to 150 mph (241 kph) – connecting more than 500 destinations in 46 states, the District of Columbia and three Canadian Provinces. Learn more at Amtrak.com or call 800-USA-RAIL for schedules, fares and other information.