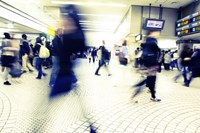 As part of continued efforts to improve the passenger experience at New York Penn Station, Amtrak announced the selection of AECOM, in partnership with Network Rail, to conduct an independent review of the interaction, coordination, and collaboration between the railroads' various passenger concourses within Penn Station and provide recommendations to improve the design, functionality, communications, and coordination at this critical station.
"New York Penn Station is the busiest rail hub in the country, and Amtrak is dedicated to making improvements to the railroad and the station that will improve the passenger experience," said Amtrak co-CEO Wick Moorman. "We have made significant progress in renewing rail infrastructure at Penn Station and are now taking steps to improve the passenger areas. We have assembled a top-notch team of national and international experts to work with the railroads on delivering solutions that will greatly improve the passenger experience at New York Penn Station."
Amtrak is the owner of Penn Station, and per agreements with Amtrak, the Long Island Rail Road (LIRR), and NJ TRANSIT (NJT) each individually manage their respective passenger concourses within the station. AECOM and Network Rail will review these relationships and develop recommendations on how the three railroads can work better together. Amtrak has convened a working group of Amtrak, LIRR, and NJT professionals to support the study.
The AECOM-Network Rail team will review management of daily operations within the three station concourses, including during service disruptions, as well as look for opportunities to strengthen coordination between all parties to improve the passenger experience, safety, and security. Using their analysis of Penn Station as well as knowledge of national and international best practices at rail stations and airports, the consultants will develop recommendations for a unified three-railroad concourse operations center.
The consultants will also provide an overall plan for improvements to Penn Station's passenger concourses. This will include guidance on operations and maintenance partnerships as well as guidance on Amtrak's planned redevelopment of Penn Station in partnership with the private sector.
AECOM and Network Rail will start work immediately, bringing their deep experience in designing passenger concourses and facility operations, including London's metropolitan station redevelopment and other high profile projects across the country and around the world.
This effort will be guided by Amtrak in coordination with LIRR and NJT. AECOM and Network Rail will deliver their recommendations in early 2018, after which Amtrak, NJT and LIRR will determine next steps for implementation.
About Amtrak®
Amtrak – America's Railroad® – is dedicated to safe and reliable mobility as the nation's intercity passenger rail service provider and its high-speed rail operator. With our state and commuter partners, we move people, the economy and the nation forward, carrying more than 30 million Amtrak passengers for each of the past six years. Formally known as the National Railroad Passenger Corporation, Amtrak is governed by a 10-member board of directors, nine of whom are appointed by the President of the United States plus the Amtrak CEO. Anthony R. Coscia is board chairman and Jeffrey R. Moreland is vice chairman. Amtrak operates more than 300 trains daily – at speeds up to 150 mph (241 kph) – connecting more than 500 destinations in 46 states, the District of Columbia and three Canadian Provinces. Learn more at Amtrak.com or call 800-USA-RAIL for schedules, fares and other information.