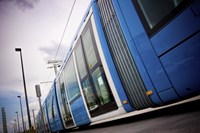 Amtrak plans to equip approximately 310 locomotives to operate using positive train control (PTC) technology and comply with that federal requirement by Dec. 31, 2018.
PTC can manage train movements to prevent train-to-train collisions, excessive speed and certain other human-caused incidents such as misaligned track switches. This equipment will be installed on Amtrak-owned diesel locomotives that primarily operate on national Amtrak network and state-sponsored routes in the east and midwest. When used in conjunction with a railroad's PTC infrastructure, these systems can increase in safety and reliability.
"PTC is a set of highly advanced technologies designed to enhance rail transportation safety by automatically stopping a train before certain types of incidents occur," said George Hartman, Senior Manager of Positive Train Control at Amtrak. "We are dedicated to ensuring our locomotives are enabled with this important safety technology."
Amtrak is a leader in the deployment and use of positive train control. In December 2015, Amtrak activated PTC on our busiest route, between New York and Washington, D.C., completing installation on most Amtrak-owned infrastructure on the Northeast Corridor. PTC has been installed between Boston and New Haven since 2000 and since 2002 along the 97 miles of track we own in Michigan and Indiana. In early 2016, Amtrak activated PTC on our 104-mile Harrisburg Line. Installation and maintenance of PTC is the responsibility of the railroad that controls the track.
Amtrak has signed an agreement with Rockwell Collins to implement the company's ARINC RailwayNet℠ service, a hosted network, messaging and application platform, designed to meet the PTC requirements mandated by the Rail Safety Improvement Act of 2008, as amended.
This service will allow the Amtrak fleet to interface with the PTC systems of other railroads when using their tracks for our trains. Under the agreement, Rockwell Collins will initialize the Amtrak fleet to run on 19 different railroads, including commuter and freight routes that host Amtrak services.
About Amtrak®
Amtrak – America's Railroad® – is dedicated to safe and reliable mobility as the nation's intercity passenger rail service provider and its high-speed rail operator. With our state and commuter partners, we move people, the economy and the nation forward, carrying more than 30 million Amtrak passengers for each of the past five years. Formally known as the National Railroad Passenger Corporation, Amtrak is governed by a 10-member board of directors, nine of whom are appointed by the President of the United States plus the Amtrak CEO. Anthony R. Coscia is board chairman and Jeffrey R. Moreland is vice chairman. Amtrak operates more than 300 trains daily – at speeds up to 150 mph (241 kph) – connecting more than 500 destinations in 46 states, the District of Columbia and three Canadian Provinces.