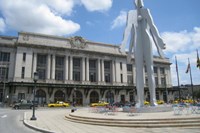 Amtrak has narrowed the field to three teams that will compete to be selected as Master Developer for commercial elements of Baltimore Penn Station and surrounding Amtrak-owned properties.
Several firms responded to the Request for Qualifications (RFQ) and the following, in alphabetical order, are those that have been "short-listed":
Brandywine Realty Trust: Brandywine Realty Trust, Pinkard Properties, Perkins Eastman, Ayers Saint Gross, ARUP, Clark Construction, Madison Marquette, Langan Engineering and Environmental Services
Peebles-AZ Baltimore Penn: The Peebles Corporation, AZ Group, MacFarlane Partner, Consolidated Contractors Group SAL, AECOM Technical Services Inc., Morganti Group, Beyer Blinder Belle Architects & Planners, Lewis Contractors, Williams Jackson Ewing (WJE), Marks Thomas
Penn Station Partners: Beatty Development Group, Armada Hoffler Properties, Cross Street Partners, Gensler, HR&A, JLL, Mace, Network Rail Consulting, Stifel, WSP | PB
"We are inspired to see this competitive process attract some of the most capable and visionary firms in the development industry, complete with the financial backing to execute a bold transformation for Amtrak and the City of Baltimore," said Bart Bush, Amtrak Vice President, Asset and Real Estate Development. "We look forward to working closely with the developers in the coming months, bringing us one step closer to realizing the vision of Baltimore Penn Station as a world-class transportation facility for years to come."
Amtrak leaders worked closely with the City of Baltimore, State of Maryland, local anchor institutions and neighborhood partners to review the responses to the RFQs and to select those teams considered capable of all aspects of project delivery.
"I welcome today's announcement that three world-class development teams will be invited to offer their visions for revitalizing Penn Station," said Congressman Elijah E. Cummings. "These teams bring the resources and expertise that will be essential to transforming Penn Station and I am excited to see their ideas and proposals as the selection process moves into the next phase."
The scope of the Master Developer would include an implementable Master Plan, design, construction, financing, operation and maintenance of non-rail assets at Baltimore Penn Station, as well as expansion opportunities and commercial development of the surrounding Amtrak owned properties. Any development solution envisioned by the selected proposer will need to align with Amtrak operational goals, and continue Amtrak's ongoing engagement with the community to ensure successful integration with the surrounding neighborhoods.
"After working closely with my administration to reimagine how Penn Station can be a catalyst for growth in Central Baltimore, I am excited that Amtrak has reached this milestone in shortlisting three highly-qualified teams," said Mayor Stephanie Rawlings-Blake. "I look forward to the final stage of selecting a team to transform the station and surrounding properties into a modern transit-oriented development reflective of the great renaissance Baltimore is undergoing."
Ten months ago, Amtrak sought input from local, regional and national developers who expressed interest in the opportunity to redevelop the Amtrak-owned station and surrounding land parcels, as well as improve both passenger and employee facilities. Industry response helped to inform the process to solicit a Master Developer, with responses to an RFQ submitted in October. The next steps will be to issue a Request for Proposals to the three short-listed teams, evaluate responses, and select a preferred Master Developer in summer 2017.
This Master Development process is part of a larger corporate program to leverage the substantial Amtrak asset portfolio, focusing on innovative strategies for sustainable financial performance and infrastructure reinvestment. The selection of a short-list of qualified developer teams in Baltimore comes at a time when demand for passenger rail service continues at record levels. Baltimore Penn Station is currently the eighth busiest station in Amtrak's national network with ridership forecasts predicted to double along the Northeast Corridor by 2040.
About Amtrak
Amtrak – America's Railroad® – is dedicated to safe and reliable mobility as the nation's intercity passenger rail service provider and its high-speed rail operator. With our state and commuter partners, we move people, the economy and the nation forward, carrying more than 30 million Amtrak passengers for each of the past six years. Formally known as the National Railroad Passenger Corporation, Amtrak is governed by a 10-member board of directors, nine of whom are appointed by the President of the United States plus the Amtrak CEO. Anthony R. Coscia is board chairman and Jeffrey R. Moreland is vice chairman. Amtrak operates more than 300 trains daily – at speeds up to 150 mph (241 kph) – connecting more than 500 destinations in 46 states, the District of Columbia and three Canadian Provinces. Learn more at Amtrak.com or call 800-USA-RAIL for schedules, fares and other information.