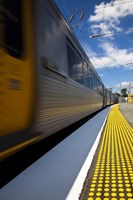 Amtrak has taken the next step toward a comprehensive redevelopment of Baltimore Penn Station and adjacent properties with the forthcoming release of a Request for Qualifications (RFQ) seeking a Master Developer partnership. Amtrak expects to release the RFQ later this month.
In advance of the RFQ, Amtrak will host an Industry Day to introduce prospective bidders and development industry representatives to Amtrak's asset monetization and station improvement initiatives at Baltimore Penn Station. The solicitation for Baltimore Penn Station's Master Development is part of a larger corporate program focused on innovative strategies for sustainable financial performance and infrastructure reinvestment.
"Baltimore Penn Station is one of the most critical assets in our national network" said Stephen Gardner, Amtrak Executive Vice President of Infrastructure and Investment Development. "This important step underscores Amtrak's efforts to execute smart, expedient and synergistic business transactions that can transform Baltimore Penn Station and enhance Amtrak's business."
Amtrak is seeking interested parties capable of all aspects of project delivery including an implementable Master Plan, design, construction, financing, operation and maintenance of non-rail assets at Baltimore Penn Station, as well as expansion opportunities and commercial development of the surrounding Amtrak owned properties. Any development solution envisioned by the selected proposer will need to align with Amtrak operational goals as well as integrate successfully with the surrounding neighborhoods.
"Penn Station is an asset whose potential has been untapped for far too long," said U.S. Rep. Elijah Cummings of Maryland, who's worked with Amtrak for more than a decade to support the advancement of Baltimore Penn Station redevelopment. "I am hopeful that the effort we are launching today will ensure we identify a partner who has the vision, skills, resources, and commitment that will enable Amtrak to transform this station into an economic engine that provides world-class amenities to travelers and helps revitalize Station North and the entire City of Baltimore."
Amtrak released a Request for Information (RFI) in January and received a strong response from local, national, and international development teams interested in a partnership with Amtrak to transform the core of central Baltimore.
Amtrak is now moving forward with a two-step procurement, including the Request for Qualifications (RFQ), followed by a Request for Proposals (RFP) that will be issued to a short-list of qualified Master Developer teams. Solicitation remains open to all prospective bidders, regardless of their participation in the RFI process.
"We are delighted with the strong market support on this critical project for Central Baltimore," said Ellen Janes, Executive Director of the Central Baltimore Partnership. "Amtrak is committed to working with the immediate community, including the Arts District, the anchor institutions, area businesses, and all of us in Central Baltimore to assure the success of this redevelopment. The station improvements and new development promise to be outstanding assets to the City and the Region."
Baltimore Penn Station is a treasured historic asset, a critical regional multimodal hub, and a community gathering place but it is also a station with challenges. At more than 100 years old, the aging station is struggling to meet the modern needs of a transportation network that is in high demand. Baltimore Penn Station is currently the eighth busiest station in Amtrak's national network with ridership forecasts predicted to double along the Northeast Corridor by 2040. The RFQ is being issued as demand for passenger rail service continues at these record levels.
While the solicitation for a Master Developer advances, Amtrak continues to dedicate significant resources to improve station conditions, customer amenities, and track infrastructure in the near-term at Baltimore Penn Station. Over the past five years, Amtrak, Maryland Transit Administration (MTA), the City of Baltimore, and neighborhood partners have invested nearly $20 million in immediate improvements.
About Amtrak®
Amtrak – America's Railroad® – is dedicated to safe and reliable mobility as the nation's intercity passenger rail service provider and its high-speed rail operator. With our state and commuter partners, we move people, the economy and the nation forward, carrying more than 30 million Amtrak passengers for each of the past five years. Formally known as the National Railroad Passenger Corporation, Amtrak is governed by a nine member board of directors appointed by the President of the United States and confirmed by the U.S. Senate. Anthony R. Coscia is board chairman and Jeffrey R. Moreland is vice chairman. Amtrak operates more than 300 trains daily – at speeds up to 150 mph (241 kph) – connecting more than 500 destinations in 46 states, the District of Columbia and three Canadian Provinces. Learn more at Amtrak.com or call 800-USA-RAIL for schedules, fares and other information.