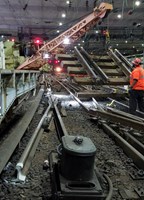 Amtrak engineering forces continue the ongoing infrastructure renewal work at New York Penn Station, a series of major projects that will strengthen and improve operations and reliability at North America's busiest transportation hub.
A normal weekday sees more than 1,300 daily train movements at Penn Station with each of the station's 21 tracks in use every two minutes. The ongoing work will help increase service reliability and preserve the existing operational flexibility for the users of Penn Station. This effort also includes preparation for the extensive and accelerated maintenance in "A" interlocking that will take place this summer, beginning in July.
Renewal and maintenance recently completed includes (numbered on map below):
Renewal of 125 feet of station track 7 at east end limits including the replacement of 600 railroad ties.
Total switch replacement consisting of several sections within tracks 3X and 4X in "A" interlocking (west side of Penn Station).
Wood, timber and rail replacement within "JO" interlocking (east side of Penn Station).
Replacement of 96 block ties in Line 1 of the East River tunnels.
Replacement of block ties within station tracks 2 and 10.
Positioning of equipment in New York and New Jersey in preparation for the extensive summer work in July and August.
Daily maintenance work.
Amtrak has released the posted schedules for passenger service during Infrastructure Renewal at New York Penn Station beginning July 10, 2017 through September 1, 2017. Schedules can be found here. Amtrak's reservation systems have been updated to reflect these schedule changes and any passenger already booked on a train that has been cancelled or altered has been contacted and accommodated on other scheduled service.
About Amtrak®
Amtrak – America's Railroad® – is dedicated to safe and reliable mobility as the nation's intercity passenger rail service provider and its high-speed rail operator. With our state and commuter partners, we move people, the economy and the nation forward, carrying more than 30 million Amtrak passengers for each of the past six years. Formally known as the National Railroad Passenger Corporation, Amtrak is governed by a 10-member board of directors, nine of whom are appointed by the President of the United States plus the Amtrak CEO. Anthony R. Coscia is board chairman and Jeffrey R. Moreland is vice chairman. Amtrak operates more than 300 trains daily – at speeds up to 150 mph (241 kph) – connecting more than 500 destinations in 46 states, the District of Columbia and three Canadian Provinces. Learn more at Amtrak.com or call 800-USA-RAIL for schedules, fares and other information.