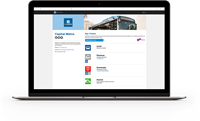 ByteToken, Ltd., a leading provider of mobile commerce solutions for the global mass transit industry, today at the 2015 UITP World Congress and Exhibition, announced that the company has won a contract to deploy a mobile ticketing pilot for the Cooperativa Emilia Romagna autobus Soc. Coop (CO.ERBUS). ByteToken is demonstrating its mobile transit ticketing and fare collection solutions during the conference at Stand 4E109 in Hall 4. UITP is taking place today through June 10 at the Milano Congressi.
UITP is internationally recognized for its work in advancing the development of mass transit sustainability. The exhibition is renowned for attracting key political, operational and technical decision-makers from around the world. More than 270 companies will exhibit, offering a glimpse at the defining trends shaping the future of public transport.
"We're honored to participate at the UITP World Congress and pleased to announce our mobile ticketing pilot for CO.ERBUS," said Micah Bergdale CEO and Co-Founder of ByteToken. "As we continue to expand globally and strive to make transit systems more efficient, we will share our understanding of the intrinsic needs and challenges of the transit industry. At UITP we stand ready to educate and enlighten transit authorities, governing bodies and consumers about the value of modernizing mobile ticketing and fare collection in this intermodal world."
ByteToken's pilot program with CO.ERBUS will initially test on 20 buses for Android device users. ByteToken will also supply back office reporting and software. Upon completion of the pilot, both visual inspection and ticket validators will be available for use on CO.ERBUS's entire fleet. The app, which will launch in Q3, will also provide valuable bus route and real-time schedule information.
"We are thrilled to offer the people of Ravenna an opportunity to simplify their ticket purchases from the convenience of their mobile phone," said Lino Fantini, CEO of CO.ERBUS. "With our growing fleet and an ever increasing number of riders, summer and shoulder-season tourists, launching the app will allow us to create a more efficient and streamlined transit experience for our riders."
About ByteToken, Ltd.

A wholly owned subsidiary of Bytemark, Inc. and an international provider of fare collection technology with offices in the UK, New York, and Australia. ByteToken provides mobile ticketing and payment solutions for transit, attractions, and events. In January 2012, Bytemark, Inc. launched the first mobile ticketing app for a major U.S. transit agency with the release of the NY Waterway app. ByteToken is focused on providing its partners with the tools they need to navigate the rapidly evolving mobile ticketing industry. Transit has been underserved by the expansion of mobile technology, and ByteToken is working to bridge the gap between the transit industry and the world's growing technology sector