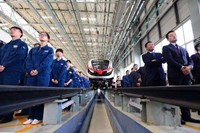 On May 25, 2015, metro trains manufactured for Olympic Games in Rio De Janeiro in Brazil by one of China CNR's subsidiaries, Changchun Railway Vehicle Co., Ltd were completely delivered to clients.
The metro trains will be operated in line 4 which will directly arrive at Rio De Janeiro Olympic Village. This created a history for supply of Chinese railway transportation equipments serving for overseas Olympic Games.
China Prime Minister Li Keqiang took the "Olympic metro trains" in Rio De Janeiro and was told by clients that in Brazil the metro trains made by in China are very stable and comfortable, and the passengers are satisfied with them.
The metro trains are made of A type stainless steel with maximum design speed 100 Km/H and with maximum passenger capacity of 2240 person.
About China CNR Corporation Ltd.
CNR is the largest world leading manufacturer & solutions provider of rolling stock. Revenue in 2012 is RMB 92.4 billion, which continue to hold No. 1 in world rolling stock industry. CNR is mainly engaged in design, manufacture, refurbishment, service and lease of rolling stock. Headquartered in Beijing, CNR has 86,138 employees divided among over 20 subsidiaries and has world advanced technology platform of high-speed EMUs, high power locomotives, heavy load wagons, coaches, metros and urban rail vehicles as well as world leading manufacturing ability. The annual output of CNR is 1,000 electric locomotives and diesel locomotives, 4,000 multiple-unit train-sets, passenger coaches and urban railway vehicles, 30,000 freight wagons, which share over half of the market in China, and are exported to over 80 countries and regions.