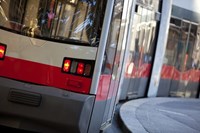 Berlin is looking forward to its new S-Bahn with great anticipation – and the first concrete steps are underway! The starting gun for the technical and interior equipment of the still empty car bodies for the latest trains of S-Bahn Berlin's light rail fleet has been fired at the Stadler plant in BerlinPankow.
The exterior paint of the first bodyshell in the daylight-filled assembly hall is a real feast for the eyes. 220 kilograms of red and yellow color painted onto the car's approximately 17 meters length leave no doubt that securing the future of Berlin's light rail system is in full swing. Manufactured at the Stadler plant in Hungary, the first end car was transported to the German capital city on a flatbed truck.
The technicians from the Siemens/Stadler manufacturing consortium can now start their job. First, they will focus on 30 pilot series cars. Five fully walkthrough four-car units and five two-car trainsets will each be equipped in the coming months. 352 additional cars will follow in the next few years.
"Heart, brain and soul": The assembly technicians will breathe life into the red and yellow car bodies. The traction container hosting the traction motors and electrical equipment is the "heart" of the car, whereas the control system is the "brain". And finally, the comprehensive comfort features designed by the development team in close cooperation with light rail customers and passenger associations symbolize the "soul". This also includes the contemporary continuation of the classic red and yellow color design that has made S-Bahn Berlin so distinctive for almost 100 years.
Peter Buchner, Managing Director of S-Bahn Berlin, expresses his delight that a major milestone has been reached: "We're on schedule. Just about two years after signing the contract, the assembly of the new trains so eagerly awaited by future passengers has now started. The first fully equipped train will already rest on its own bogies next year."
"We are proud to be able to fire the starting gun for the assembly of the new light rail trains together with our contractual partners today," declares Ulf Braker, CEO of Stadler Pankow GmbH. "In the next few weeks we will bring to life a product from Berlin, for Berlin."
Sabrina Soussan, CEO of the Siemens Mobility Division, emphasizes: "We will equip the new trains for Berlin with components that have proven their worth many times – a tried-and-tested, robust technology which is operating extremely reliably in vehicles worldwide. Since the trains stand out due to their particularly fault-tolerant design, passengers in Berlin can look forward to a highly reliable train service."
After their delivery during the period from 2021 to 2023, a total of 85 new fourcar trains and 21 two-car units will be available for light rail operations on the so-called Ringbahn (circular line) and the southeastern access routes – the impressive result of the two experienced rolling stock manufacturers' hard work. S-Bahn Berlin is investing about € 900 million in new vehicles and the necessary adaptation of its workshop in Grünau.
About Stadler

Stadler has been building trains for 75 years. The system provider of rail vehicle construction solutions is headquartered in Bussnang in Eastern Switzerland, and has a workforce of around 7000 based in various locations across Switzerland, Germany, Spain, Poland, Hungary, the Czech Republic, Italy, Austria, the Netherlands, Belarus, Algeria, Australia, and the United States. Stadler provides a comprehensive range of products in the commuter rail and railway segments: trams, tram trains, underground trains, regional and commuter rail trains, intercity trains, and high-speed trains. In addition, Stadler manufactures main-line dual-mode locomotives, shunting locomotives, and passenger cars, including the most powerful dieselelectric locomotive in Europe. Stadler remains the world's leading manufacturer in the rack-and-pinion rail vehicle industry. Additionally, Stadler Service maintains 16 vehicle fleets made up of over 300 vehicles that cover a combined annual distance of 72 million kilometers.
About DB Mobility Logistics
Deutsche Bahn is a leading mobility and logistics company with outstanding competences in operation and development of traffic networks.
We permanently promote mobility and logistics locally, nationally and internationally, as integrated group with railservice as our core business.
Our core competences are:
Efficient and reliable operation of traffic networks
End-to-End offers of mobility and logistics services
Long lasting cooperative partnership with public authorities
Intelligent connection of traffic networks
The target is to reach our vision of being the world leading mobility and the logistics company with our core competences and service offers in public transports (mobility for people – national and international), infrastructure (efficient and sustainable rail infrastructure in Germany) and transport and logistics (intelligent logistics services for land, sea and air). Sustainability, economic efficiency, customer orientation and progressiveness are the core elements of our strategy. Deutsche Bahn offers answers to globalization trends, climate change, scarcity of resources and deregulation today.
About Siemens
Siemens AG (Berlin and Munich) is a global technology powerhouse that has stood for engineering excellence, innovation, quality, reliability and internationality for more than 165 years. The company is active in more than 200 countries, focusing on the areas of electrification, automation and digitalization. One of the world's largest producers of energy-efficient, resource-saving technologies, Siemens is No. 1 in offshore wind turbine construction, a leading supplier of gas and steam turbines for power generation, a major provider of power transmission solutions and a pioneer in infrastructure solutions as well as automation, drive and software solutions for industry. The company is also a leading provider of medical imaging equipment – such as computed tomography and magnetic resonance imaging systems – and a leader in laboratory diagnostics as well as clinical IT. In fiscal 2015, which ended on September 30, 2015, Siemens generated revenue of €75.6 billion and net income of €7.4 billion. At the end of September 2015, the company had around 348,000 employees worldwide.