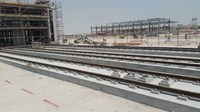 edilon)(sedra has played a pivotal role in the supply of more than 14.000 units of edilon)(sedra Corkelast® EBS Embedded Blocks for Education City people mover in Qatar. The units are installed in the summer of 2015 in the Depot, elevated track and shortly within the tunnel.
Education City people mover, is an 11.5 km catenary-free tramway which is being built to serve the Qatar Foundation for Education, Science & Community Development's education and research campus west of Doha. Awarded in July 2012 to the Siemens Tram Consortium of Siemens AG, Siemens WLL Qatar and Habtoor Leighton Group.
Mark Fowler, Sales Manager Middle East at edilon)(sedra: "The decision to use the Corkelast® EBS units was made because of its high resistance to stray currents, an abso­lute requirement stipulated by Siemens Tram Consortium. In addition edilon)(sedra were able to mobilise their supply and delivery within record time, hence providing continuity of productivity within the track construction."
About edilon)(sedra
edilon)(sedra is an international supplier of rail track systems, insulating rail systems and noise and vibration reduction systems for:
high speed and conventional trains
trams
metros
light rail transits
crane applications
Added value services
We believe that project support for the installation of our systems is a journey best travelled in close partnership with our customers. That is why we are delighted to supply a complete package of services including but not limited to: system designs, application development, construction support, maintenance advice, consultation and supervision.
Our rail solutions stand for low construction height and weight, maximum electrical insulation, short installation times and a minimum of maintenance required.