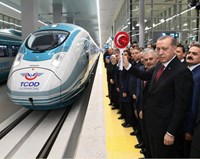 With the successful opening of the new Ankara High Speed Station, 29th October, edilon)(sedra sets another milestone in the 50 year history of its Corkelast® ERS (Embedded Rail System).
TCDD Turkish State Railway Authorities decided to take advantage of the system for the new iconic railway station in Ankara, Turkey. TCDD's main technical reason for selecting Corkelast® ERS is the fact that it conforms 100% to the CEN 13481-5. Respective engineering reports, reference letters of various railway authorities, complete CEN-test reports, etc. were provided confirming the outstanding track record and unrestricted applicability.
The new station building looms over the city's existing art deco station (opened in 1937) and is the current high-speed, regional and commuter railway hub. The Ankara station consists of 8 floors, 3 platforms and 6 high speed lines.
As the station building also has a shopping mall, 5 star hotel and conference centre, a noise & vibration study was conducted in collaboration with METU, Ankara in order to verify the performance of our Corkelast® ERS in combination with Trackelast® STM/RPU in accordance to the technical requirements.
About Edilon Sedra
The company edilon)(sedra designs, develops, assembles and installs vibration and noise reducing ballast free rail track fastening systems. With the head office based in Haarlem e)(s has a global presence through her own consulting and supply network. Originating from her own R&D departments and in close cooperation with technical universities the company brings her added value systems and services onto the market place.
e)(s track fastening and isolation solutions have been installed in public and private railway, tram, metro and industry projects throughout Europe for over 40 years and expanded her activities in the past 15 years to Asia, North America, Eastern Europe, Northern Africa (MAGREB), and Australia. The systems offer solutions where there is a need for rapid construction, noise and vibration attenuation and/or low maintenance and safety requirements, all the needs of the modern railway industry.
With the support of her two operational companies and the technical and commercial departments e)(s integrates her solutions in tenders and RFO's. Project development and execution are supported by the application & engineering support department and on demand by our contracting companies for system installation services.