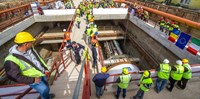 For the new 15 km long Bucharest Metro Line 5 edilon)(sedra supplies its Corkelast® EBS-MS block system for 49E1 rail. The contract has been concluded with Astaldi/FCC/UTI JV.
Metrorex (the Bucharest Metro Authority) has used a bi-block sleeper system since the early 80's, with growing problems with deflection, electrical insulation and wear & tear of the booted trays. Maintenance cost are high, and due to the short possession times it often interferes the transport service.
edilon)(sedra Corkelast® EBS-MS combines a Medium Stiffness and watertight system with low maintenance. The crossings and switches are carried by EBS blocks that were especially designed to accommodate the traffic. Guiderail has been integrated into special EBS blocks to conform with the clients demands.
In specific areas of the track, e.g. near Theatre and University, an additional edilon)(sedra Trackelast® STM RPU/Blue slab track mat will be applied to isolate vibrations in the lower frequencies range. A thorough study on noise and vibration effects has been performed by the German company I.B.U. under supervision of Mr. Udo Lenz.
Presently the blocks are transported into the tunnel and laid out for installation of the track superstructure.
About edilon)(sedra
The company edilon)(sedra designs, develops, assembles and installs vibration and noise reducing ballast free rail track fastening systems. With the head office based in Haarlem e)(s has a global presence through her own consulting and supply network. Originating from her own R&D departments and in close cooperation with technical universities the company brings her added value systems and services onto the market place.
e)(s track fastening and isolation solutions have been installed in public and private railway, tram, metro and industry projects throughout Europe for over 40 years and expanded her activities in the past 15 years to Asia, North America, Eastern Europe, Northern Africa (MAGREB), and Australia. The systems offer solutions where there is a need for rapid construction, noise and vibration attenuation and/or low maintenance and safety requirements, all the needs of the modern railway industry.
With the support of her two operational companies and the technical and commercial departments e)(s integrates her solutions in tenders and RFO's. Project development and execution are supported by the application & engineering support department and on demand by our contracting companies for system installation services.