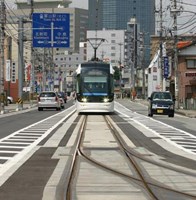 Ten years after edilon)(sedra installed 1.163 meter of Corkelast® USTS (Urban Slab Track System) in Toyama Japan, the city has a very innovative strategy to further extend this successful tram system.
In the past the city centre of Toyama was practically divided in half by a railway line, and new tram operations started up in the part which still had no tram. To bring people living in the suburbs into the city, a disused railway line was refurbished for tram operation and laid into the city centre (to the railway station). This new tram line (Seaport Line) for which the slab track system was installed by edilon)(sedra, is operated by Toyama Light Rail Co. Ltd., opened in 2006.
Nowadays there are two standalone systems which are only separated by the railway lines. With the extension of the railway line in Toyama for the Shinkansen and Toyama railway station, the idea emerged of connecting the two tram systems with a new underpass which has yet to be built. It is planned to connect the existing terminus of each system at the railway station in 2020. The vision would then become reality, and Toyama would have one continuous high-performance tram system.
In the Seaport Line project we were joined by Hanning & Kahl as partner from the European Transportation Technology Group (TTG). Together, we demonstrated that European technology offers ideal solutions for safe, modern, long-lasting and thus economically-efficient tram systems.
edilon)(sedra
edilon)(sedra is an international supplier of rail track systems, insulating rail systems and noise and vibration reduction systems for:
high speed and conventional trains
trams
metros
light rail transits
crane applications
Added value services
We believe that project support for the installation of our systems is a journey best travelled in close partnership with our customers. That is why we are delighted to supply a complete package of services including but not limited to: system designs, application development, construction support, maintenance advice, consultation and supervision.
Our rail solutions stand for low construction height and weight, maximum electrical insulation, short installation times and a minimum of maintenance required.