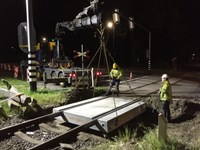 edilon)(sedra recently installed a unique level crossing solution in Rotterdam, The Netherlands. Constructing the level crossing in this method resulted in significant savings for the contractors, because the installation no longer required the cutting and welding of rails.
The project included the extension of an existing level crossing by a 3 m LCS-L slab. Normally such a slab is placed directly on the split. In this case the slab is stabilized by means of grouting. Injection holes were mounted in the slab, as well as adjustment options in order to vertically adjust the slab by means of hydraulic jacks.
In addition, the use of stepwise displacement of the LCS-L slab, it was passed under the rails and positioned. Thereafter, edilon)(sedra Corkelast® elastomer was poured to embed the rails and give them their world famous continuous support.
In brief: a unique, quick and cost-effective application of our LCS-L system.
About edilon)(sedra
The company edilon)(sedra designs, develops, assembles and installs vibration and noise reducing ballast free rail track fastening systems. With the head office based in Haarlem e)(s has a global presence through her own consulting and supply network. Originating from her own R&D departments and in close cooperation with technical universities the company brings her added value systems and services onto the market place.
e)(s track fastening and isolation solutions have been installed in public and private railway, tram, metro and industry projects throughout Europe for over 40 years and expanded her activities in the past 15 years to Asia, North America, Eastern Europe, Northern Africa (MAGREB), and Australia. The systems offer solutions where there is a need for rapid construction, noise and vibration attenuation and/or low maintenance and safety requirements, all the needs of the modern railway industry.
With the support of her two operational companies and the technical and commercial departments e)(s integrates her solutions in tenders and RFO's. Project development and execution are supported by the application & engineering support department and on demand by our contracting companies for system installation services.