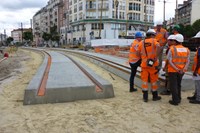 On the 20th and 21st of July, 160 meters of Corkelast® Level Crossing System (LCS) was installed as part of the Paris T4 tram-train extension near Gargan station. edilon)(sedra carried out the design, application engineering and supply of the system for our client SNCF, in full conformity with SNCF's approval for LCS and in close cooperation with project partners Delcourt Rail and Systra.
Standard design 6 meter LCS slabs were installed, as well as special designed tapered 3 meter slabs for the curved part of the track. Part of the specific engineering work for layout and installation was to accommodate the narrow curve radius of 80 meters. This allows the rails to follow the curves in straight channels. Two of the 3 meter slabs were specially designed in order to accommodate a detection loop.
Commencing on the 20th of July, the slab installation took place in a short time frame of 8,5 hours. The installation time on average was 15 minutes per slab. Due to the difficult access conditions for the trucks, the delivery schedule had to be followed perfectly. The unloading of the slabs and the slab installation was assured by a 400 ton mobile crane. Rail alignment and the pouring of the rail embedding elastomer Corkelast® followed quickly. The track work was finished the next day in two short shifts.
The level crossings are part of a 6,5 km route that will extend the T4 line east from Gargan station to Montfermeil. The T4 extension will be opened for passengers at the end of 2019.
In 2006 edilon)(sedra supplied Corkelast® LCS level crossings for T4 from Bondy to Aulnay. After 10 years in service these level crossings are still in perfect shape – so far no maintenance action has been required.
About Edilon Sedra
The company edilon)(sedra designs, develops, assembles and installs vibration and noise reducing ballast free rail track fastening systems. With the head office based in Haarlem e)(s has a global presence through her own consulting and supply network. Originating from her own R&D departments and in close cooperation with technical universities the company brings her added value systems and services onto the market place.
e)(s track fastening and isolation solutions have been installed in public and private railway, tram, metro and industry projects throughout Europe for over 40 years and expanded her activities in the past 15 years to Asia, North America, Eastern Europe, Northern Africa (MAGREB), and Australia. The systems offer solutions where there is a need for rapid construction, noise and vibration attenuation and/or low maintenance and safety requirements, all the needs of the modern railway industry.
With the support of her two operational companies and the technical and commercial departments e)(s integrates her solutions in tenders and RFO's. Project development and execution are supported by the application & engineering support department and on demand by our contracting companies for system installation services.