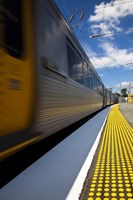 A new campaign developed by M&C Saatchi on behalf of the Rail Delivery Group (RDG), which represents train operators and Network Rail, will shine a spotlight on the crucial role the railway plays in British life.
The campaign, which launches today, is called Britain Runs on Rail. It is the first time all train operators and Network Rail have come together to tell the railway's story since the industry was restructured in the 1990s.
With rail companies delivering a £50bn+ Railway Upgrade Plan, billions of pounds from taxpayers and increasing amounts from passengers are being spent building a bigger and better railway. The campaign will raise awareness of how this money is improving services and why the investment in necessary.
A key feature of the campaign will be a new version of the 'double arrow' logo. The famous emblem, originally designed in 1965, has become an iconic part of Britain's design landscape as the identifier for the National Rail network on road signs, station buildings, tickets and Railcards. While the logo will not change in these places, it has been refreshed for the campaign to reflect the modern rail industry where rail companies are working together ever more closely.
The general public will be invited to visit a website that sets out improvements to the railway in their area and explains the increasingly crucial role it plays in Britain today.
The nationwide multi-media campaign launches today with digital inventory, press, poster and in-journey communications. TV and digital audio-visual is expected next Spring.
Edward Welsh, director of communications at the RDG, said:
"The railway is an ever more vital public service, making a crucial contribution to national life. Billions are being spent building the railway the country needs and that passengers want and we must explain where that money is going and why it's needed.
"Our goal is to sustain support from the public and private sectors for continued funding of rail. There are many challenges and tough choices that government, the industry and the country face if we are going to deliver better services. Our campaign will help to encourage that debate."
Tim Duffy, UK Chairman, M&C Saatchi, said:
"Whether you are a passenger or not, the rail industry plays a vital role in all our lives. The new logo design and the accompanying campaign will convey the railway and its significance in a fresh way."
Gerry Barney, the designer of the original double arrow logo, welcomed the refreshed version. He said:
"The new version of the logo really works. It reinforces the totality of Britain's rail industry working together, and the diversity of the different companies and Network Rail. It's a faithful adaptation of my original 1965 design".
About Rail Delivery Group
The purpose of the Rail Delivery Group (RDG) is to enable passenger and freight operators and Network Rail to succeed by delivering better services for their customers. This ultimately benefits taxpayers and the economy.