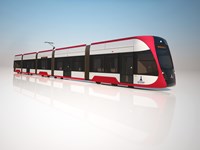 Supplying 38 Units on the New 2 Lines of Izmir …Worth KRW 83.7 Billion
Eco-friendly Vehicle Achieved Recognition First from Overseas Market.. "Invigorating Domestic Market"
Hyundai Rotem won a contract for tram for the first time in its history. It is the first achievement from overseas market, not domestic one.
Hyundai Rotem, the integrated heavy industry company and an affiliate of Hyundai Motor Group, on August 7 announced that it has signed a contract to supply 38 trains (5 cars per trainset) with Turkish local construction company Gulermak on August 7. The low floor tram with overhead catenary is to be manufactured and supplied by Hyundai Rotem and this tram will run on the new 2 lines that are supposed to be built in Izmir, Turkey by Gulermak each length of 9.7km and 12.6km.
By this contract, Hyundai Rotem made a first step to the global tram market. Tram is the most suitable alternative to public transportation for low-carbon green growth and it is catching on as an eco-friendly transportation worldwide including Europe, Japan, and US as well. Different from an existing Light Rail Vehicle (LRV) which requires additional infrastructure, a tram does not require special track for it since the track is set on a general road and run by electricity as a power source. The low initial construction cost which is 1/2~1/3 of that of normal LRV is also a advantage of tram. Tram is now running in about 380 countries all over the world and it exercises high influences in the area of public transportation, occupying 80% of the global LRV market.
After 41 months of national project from the last Dec. of 2009, Hyundai Rotem completed Hybrid Low Floor Tram with/without overhead wire contact which can run 50km by a single charge.
It is a major feature that the tram Hyundai Rotem developed is able to use both Lithium-ion polymer battery and DC 750V electricity supplied by wire as a main power. It is more efficient than normal subway or LRV at the aspect of construction cost because it is able to be run whether by wire in the outskirts of a city in which electricity supply wire is easy to be installed, and by no wire in the crowded city. The tram has a sensor inside that detects CO2 that allows supplying fresh air constantly and has lower interior noise since there is no conventional exhaust fan as well. Also, the distance between rail surface and interior floor is 350mm of low floor which makes elderly and transportation vulnerable easy to get on or off.
Since many local governments like Changwon, Suwon, Daejeon, and Jeju are considering introducing tram on account of the assessment that tram is more efficient in comparison with other transportation in the aspects of safety, construction cost, operating expense, connectivity to public transportation, the contract for supplying trams to Turkey will give momentum to domestic market development. A Hyundai Rotem official said that "Not only for domestic market, but we will work actively to export Korean tram to Middle East area and European Market."
The company said that the first winning of the contract with overseas market, Turkey, is because of the acknowledgement of successful business result before and global delivery result.
In fact, Turkey is one of the important overseas market for Hyundai Rotem. From the first contract of Adana LRV signed in the last 1996, the company has been awarded to supply 1,006 cars in total including 92 cars of Istanbul E&M EMUs in 2001, 440 cars of Marmaray EMUs in 2008, and 120 cars of Izmir EMUs in 2012. It is the second biggest export market after India, to which the company exported 1,283 cars in total. The company is performing active business activities including parts supply for DMU and technology transfer with Tuvasas worth KRW 90.9 billion on last May.
In 2007, Hyundai Rotem had expected the increasing demand for railroad car in Turkish market and made the manufacturing facility with its Europe branch EURotem in Adapazari, which is capable of 120 cars of annual production. The trams for this contract are to be manufactured in the Adapazari factory as well.
The demand for tram in LRV market, which is worth KRW 3 trillion of annual average, is expected to be increased continuously. Particularly, since the expectation for large scale of replacement demand for out-dated cars in Western Europe, Eastern Europe, and CIS, worldwide rolling stock manufacturers are making efforts to develop various types of rail cars.
About Hyundai Rotem
Hyundai Rotem is equipped with manufacturing facilities in Changwon, Kyung-nam and a R&D center in Uiwang, Kyonggi-do with the capability to develop and produce 700 EMU's of railway vehicles and battle tanks a year.
Hyundai Rotem is staffed with 3,800 excellent individuals including 700 researchers that proudly carry on the company name by producing all kinds of railway vehicles, such as electric multiple units, high-speed trains, light rail vehicles, locomotives and passenger coaches; ground weapon systems such as the K1A1 Main Battle Tank (MBT), the K1 Armored Recovery Vehicle (ARV) and the Armored Vehicle Launched Bridge (AVLB); as well as Plant & Machinery such as presses, steel making plants, car manufacturing systems and environmental plants.
Hyundai Rotem has continuously conducted R&D activities to develop new products such as magnetically levitated vehicles, applying new technology to all kinds of railway vehicles. We are now expanding into the business of signaling, propulsion systems, and system engineering. We are also actively participating in various national R&D projects in the defense industry.
Hyundai Rotem is striving to cultivate new corporate philosophies to play a key role in the nation's key industry. Hyundai Rotem is making efforts to become a socially responsible corporation by seeking ethical management. We are also building a cooperative labor management relationship and enhancing our productivity. Through these endeavors we are aiming to become responsible corporation of high status.
Hyundai Rotem is also expanding its business activities to the global market and is developing technologies that prioritize quality, environment and the people. Our products and services which are a result of such technology provide high satisfaction for our customers.
Hyundai Rotem will grow into a responsible and ethical leader that continues to reach for higher horizons.