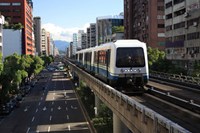 Solar powered cars, drones and the Southern Hemisphere's only Hyperloop project are among the transport technology initiatives being considered to transform mobility in Australia.
Intelligent transport systems (ITS) leaders from American, Asia Pacific and Europe will join the Australian smart transport community to explore current and future technologies at the Australian Intelligent Transport Systems Summit, 27-28 September 2017, at the Brisbane Convention and Exhibition Centre.
Hosted by ITS Australia in partnership with Queensland Department of Transport and Main Roads, the key focus areas are Connected and Automated Vehicles, Mobility as a Service and Big Data, and Transport for Smart Cities. The ITS Summit is Australia's largest annual industry-led ITS conference.
ITS Australia Chief Executive Susan Harris said the Summit theme, Transforming Transport reflects the rapidly changing transport landscape of today while introducing future mobility technologies.
"The Intelligent Transport Systems industry has never been stronger and increasingly plays a vital role in the safety, efficiency and sustainability of freight and people movements.
"Technology is changing so fast it not only presents opportunities to enhance the liveability of our cities and communities, it creates new and future business opportunities. Australia has the capability to capitalize on these."
The ITS Summit will include more than 40 Australian and international speakers, in addition to Keynotes, exhibitions, technical tours and networking opportunities.
Jonathan Myers, Head of Growth, Innovations and Partnerships, Keolis Downer, described the Summit as 'mission critical'.
"Digitalization is influencing all aspects of mobility, from the customer experience to new connected vehicles and infrastructure. We need to distinguish sound strategic opportunities that will transform the way we travel from technical fads."
Dr Steven Shladover, Program manager for the California Partners for Advanced Transportation Technology, at the University California is an international keynote speaker.
"This is an opportunity to talk about the lessons we can learn from previous experiences with automation of driving and what they signify for the future development of driving automation systems."
Josh Keegan, Founder and CEO of the World Drone Challenge said "If you think drone technology won't have an impact on transportation systems and infrastructure, think again."
Australia is a global leader in intelligent transport systems. It has an international reputation for transport technology development and deployment, and there are opportunities for future collaboration and initiatives, as outlined in the ITS Australia Report, Smart Transport for Australia. The Report identifies at least 40 focus areas for governments, industry and academia.
The ITS Summit is an opportunity for the intelligent transport systems industry to come together, explore new technologies and discuss the benefits for users of transforming transport. ITS Australia Early Bird registration closes 14 July 2017.
About ITS Australia
Intelligent Transport Systems Australia (ITS Australia) promotes the development and deployment of advanced technologies to deliver safer, more efficient and environmentally sustainable transport across all public and private modes – air, sea, road and rail. Established in 1992, ITS Australia advocates the application of communication, data processing and electronic technologies for in-vehicle, vehicle-to-vehicle, vehicle-to-infrastructure and mode-to-mode systems to increase transport safety and sustainability, reduce congestion, and improve the performance and competitiveness of Australia's networks. ITS Australia is an independent not-for-profit incorporated membership organisation representing ITS suppliers, government authorities, academia and transport businesses and users. Affiliated with peak ITS organisations around the world, ITS Australia is a major international contributor to the development of the industry and host of the 2001 and 2016 ITS World Congress