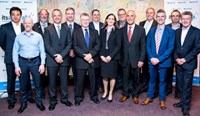 From today the Board of Directors will be led by Mr Dean Zabrieszach as President, ably supported by Mr Dennis Walsh as Vice President, and Directors, all of whom bring with them a wealth of knowledge from a variety of transport industry backgrounds.
ITS Australia congratulated new and re-elected Board members:
Mr Dale Andrea – VicRoads
Mr Chen Cai – Data61/CSIRO
Mr James Hurnall – Federal Chambers of Automotive Industries
Mr Mark Jackman – Robert Bosch Australia
Mr Jeff McCarthy – Roads and Maritime Services
Mr Brian Negus – RACV
Mr Dean Zabrieszach – HMI Technologies
They join ongoing members of the Board:
Mr Bill Advic - Eastlink
Mr Gino Dompetrio – Jacobs Group
Mr Chris Koniditsiotis - Transport Certification Australia Limited
Mr Jeremy Nassau - Transurban
Mr Soren Tellegen - Kapsch (TrafficCom in Australia/New Zealand)
Mr Dirk Van de Meerssche – Cubic
Mr Dennis Walsh – Department of Transport and Main Roads
Mr Michael Watts - Transmax
ITS Australia would also like to thank Mr John Hawkins and Mr Andrew Mehaffey for their contribution as long serving Board Members that concluded in 2017, and to Mr Andrew Sheridan for his contribution over the last year.
The role of the ITS Australia Board is to advocate the application of communication, data processing and electronic technologies for in-vehicle, vehicle-to-vehicle, vehicle-toinfrastructure and mode-to-mode systems to increase transport safety and sustainability, reduce congestion, and improve the performance and competitiveness of Australia's transport networks.
Mr Zabrieszach said how proud he is to be elected as President of such a dynamic and growing organisation, with a highly engaged Board of Directors.
"It's my belief that ours is the best ITS Association in the world. The enormous work in recent years, led by my predecessor Brian Negus, and with the help of Susan Harris, CEO and her team, have seen ITS Australia grow from strength to strength.
"The continued work to represent our members both in domestic and international settings means the Australian ITS industry has continued to grow and remains a major employer and economic contributor."
The peak body, now in its 25th year, aims to promote and facilitate collaboration and partnering amongst industry, government and academia in researching, developing and deploying ITS technologies.
Upon the announcement of the newly elected Board of Directors, Ms Harris echoed the noted strength to date of the Board of Directors, and in particular the tremendous contribution from immediate past President, Brian Negus.
"His consistency and engaged leadership has placed us in an enviable position of growth. ITS Australia has never been in a stronger position and we are building upon the momentum of the highly successful 2016 ITS World Congress."
Ms Harris said that the organisation has a lot to celebrate.
"We continue to leverage the opportunities the ITS World Congress created for the benefit of the Australian ITS industry.
"Ongoing activities including the publication of the Smart Transport for Australia report, the bid to host the 2020 Asia Pacific Forum in Brisbane, and the engagement of a Policy Manager.
"These things and more will ensure Brian's legacy is the starting point for continued success for ITS Australia".
About ITS Australia
Intelligent Transport Systems Australia (ITS Australia) promotes the development and deployment of advanced technologies to deliver safer, more efficient and environmentally sustainable transport across all public and private modes – air, sea, road and rail. Established in 1992, ITS Australia advocates the application of communication, data processing and electronic technologies for in-vehicle, vehicle-to-vehicle, vehicle-to-infrastructure and mode-to-mode systems to increase transport safety and sustainability, reduce congestion, and improve the performance and competitiveness of Australia's networks. ITS Australia is an independent not-for-profit incorporated membership organisation representing ITS suppliers, government authorities, academia and transport businesses and users. Affiliated with peak ITS organisations around the world, ITS Australia is a major international contributor to the development of the industry and host of the 2001 and 2016 ITS World Congress