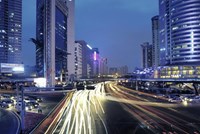 The economic benefit of the 23rd World Congress on Intelligent Transport Systems, in Melbourne, is now estimated to be $46.6 million - nearly twice the initial projection.
The increase is attributed to the higher than anticipated attendance figures. More than 11,500 Australian and international delegates participated – that's 4,500 registrations more than the target figure of 7,000. The high volume of visitors had a positive impact on the local economy with benefits felt, in particular, across hotels, transport companies, restaurants and places of interest.
The ITS World Congress is an internationally renowned annual transport technology conference, alternating between Asia Pacific, America and Europe. Themed 'ITS-Enhancing Liveable Cities and Communities' the 2016 event in Melbourne was the largest international association conference held in Australia last year.
Brian Negus, President of ITS Australia, hosts of the World Congress, says selling Melbourne as a destination of choice was an important aspect of promoting the event.
"The Congress was a great success and from an industry point of view, it showcased Melbourne's integrated transport network, connected local industries to the global market and enabled Australian leaders to engage with international colleagues.
"From a destination perspective, we knew Melbourne would be a draw card and ensured the city's cultural diversity, restaurants and cafés, tourism, sporting and heritage attractions were featured. Delegates could even pet our unique animals in the exhibition centre.
"But it wasn't just Melbourne that benefited. After travelling a combined total of more than 36 million kilometres to come here, many visitors then made additional trips to regional Victoria and interstate."
Delivering the ITS World Congress to Melbourne was a collaborative effort, involving many partners including the Victorian Government, Melbourne Convention Bureau (MCB) and the Melbourne Convention and Exhibition Centre (MCEC).
As Headline Partners, the Victorian Government played an active role to bring the World Congress to Melbourne. Victorian Government Minister for Roads, Road Safety and Ports, Luke Donnellan participated in the official opening and as well as multiple key events. Ministers Jacinta Allen and Robin Scott were actively engaged as was Treasurer Tim Pallas, saying the Melbourne Congress was the second largest international association conference ever held in Melbourne.
"Victoria is a national and international leader in technology, transport and tourism.
"Melbourne has been voted the world's most liveable city for six successive years and the city provides unrivalled conference facilities and exhibition spaces.
"The ITS World Congress in Melbourne made a significant economic contribution, benefiting Victorian businesses, jobs and paving the way for future opportunities."
Melbourne Convention Bureau is responsible for bidding for and securing major international congresses and conventions for Victoria, known as business events. These business events deliver an economic contribution of $9.8 billion and 65,000 jobs annually to the state.
MCB Chief Executive Officer, Karen Bolinger, said the city's reputation as Australia's leading business events destination has continued to go from strength to strength in recent years.
"The ITS World Congress was an effective platform for showcasing Victorian pre-eminence in the ITS sector on the international stage, profiling research infrastructure and organisational capabilities, highlighting policy leadership, facilitating commercial ventures and export potential, and bringing global ITS leaders to Melbourne to develop new networks, share best practice and foster expertise.
"Economic contribution is a key indicator of the success of a business event, however it is the beyond tourism legacies, such as those that occurred from the ITS World Congress in Melbourne, that are the real indicators of the long term impact and success of an event," Ms Bolinger said.
The ITS World Congress showcased Melbourne's multi modal transport network, taking more than 650 delegates to key air, sea, road, train, tram and freight centres. Albert Park's internationally recognized Formula One track was one of multiple locations for 3,500 booked live vehicle technology demonstrations.
The nearly 250 Plenary, Executive, Special Interest, Scientific and Technical sessions, 278 exhibiting partners, a Hackathon and the student and public community projects were held at the MCEC.
Melbourne Convention and Exhibition Centre Chief Executive, Peter King says the success of the World Congress is a clear example of why MCEC is expanding its footprint by almost 25 per cent.
"The ITS World Congress took over more than 80 per cent of our venue, with the Welcome Reception spread across 16,500 square metres of space. It is a terrific example of the type of major business events that come to Melbourne, who not only fill our venue but infiltrate the entire city of Melbourne.
"At MCEC we host over one thousand events each year and welcome more than 2 million visitors through our doors, while turning away almost 20 per cent of business because we are operating at capacity. This expansion will allow us to attract new events to Melbourne and allow existing customers to grow their events.
"Our award-winning venue infrastructure and delivery capabilities are a key factor when major events like the ITS World Congress choose to host heir event in Melbourne, and our expansion will certainly add to this global reputation," Mr King added.
With Australia is not expected to host another World Congress for several years, ITS Australia Chief Executive, Susan Harris says it was important to maximize the opportunity and build a legacy.
"The World Congress put Australia on the transport technology map and shone the spotlight on our position as global leaders. A number of industry opportunities, partnerships and initiatives are now underway and over the next few years, we expect to see more World Congress benefits realized, which will positively impact industry and consumers with safer, more efficient and sustainable transport options."
About ITS Australia
Intelligent Transport Systems Australia (ITS Australia) promotes the development and deployment of advanced technologies to deliver safer, more efficient and environmentally sustainable transport across all public and private modes – air, sea, road and rail. Established in 1992, ITS Australia advocates the application of communication, data processing and electronic technologies for in-vehicle, vehicle-to-vehicle, vehicle-to-infrastructure and mode-to-mode systems to increase transport safety and sustainability, reduce congestion, and improve the performance and competitiveness of Australia's networks. ITS Australia is an independent not-for-profit incorporated membership organisation representing ITS suppliers, government authorities, academia and transport businesses and users. Affiliated with peak ITS organisations around the world, ITS Australia is a major international contributor to the development of the industry and host of the 2001 and 2016 ITS World Congress