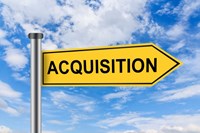 Keltbray Group has acquired some of the assets of Dunne Group from the Administrators after Dunne Group went into administration in July.
This purchase includes the former yard and head office for the Group at Bathgate in Scotland, as well as plant used for the construction of reinforced concrete structures.
Keltbray sees this as an opportunity to broaden its capability and services portfolio, widen its geographical reach and to respond to market demands.
Keltbray Group
Keltbray Group is the UK's leading specialist business, which offers engineering, construction, demolition, decommissioning, remediation, rail and environmental services. The company dates back to 1976, employs more than 1,000 people, and is a key player in developing and maintaining Britain's built environment. Keltbray provides services to meet the needs of diverse and complex projects, and its well qualified people take pride in delivering projects safely and efficiently, on time and to budget, and with care for the environment and our communities. Keltbray has contributed to a range of high profile construction projects including The Shard, Queen Elizabeth Olympic Park Stadium, St Pancras International, Crossrail, Earls Court and Battersea Power Station.