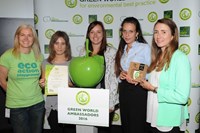 Keltbray Group has been crowned 2016 Green World Ambassador and presented with a silver award for in this year's Green Apple awards for The Built Environment and Architectural Heritage. Keltbray was presented with the award in the Innovation category for the removal of Bridge 19 at Earls Court, where Keltbray adapted its methodology to minimise rail downtime, reduce project risks and keep disturbance to neighbours from environmental noise, vibration and dust from the works to a minimum.
The awards date back to 1994 and are presented by The Green Organisation to recognise, reward and promote environmental best practice around the world.
The removal of Bridge 19 at Earls Court also secured Keltbray the Collaboration in Demolition Award at the 2015 World Demolition Awards on behalf of the multiple stakeholders involved in the project, including Keltbray's client, Capco, specialist contractor Abnormal Load Engineering (ALE), Network Rail, Earls Court and Olympia, and the Environmental Health Officers for Kensington and Chelsea Borough and Hammersmith & Fulham Councils; who all shared the belief that collaboration was essential to the success of the project.
Keltbray Group
Keltbray Group is the UK's leading specialist business, which offers engineering, construction, demolition, decommissioning, remediation, rail and environmental services. The company dates back to 1976, employs more than 1,000 people, and is a key player in developing and maintaining Britain's built environment. Keltbray provides services to meet the needs of diverse and complex projects, and its well qualified people take pride in delivering projects safely and efficiently, on time and to budget, and with care for the environment and our communities. Keltbray has contributed to a range of high profile construction projects including The Shard, Queen Elizabeth Olympic Park Stadium, St Pancras International, Crossrail, Earls Court and Battersea Power Station. For more information, see www.keltbray.com