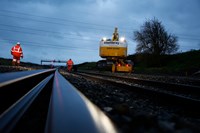 As part of Network Rail's multi-million Great Western Route Modernisation (GWRM) Keltbray Rail, working with ABC Electrification, has installed the 250th pile for Network Rail Wales. The 250th pile was installed on the Bristol to Severn Tunnel stretch one month ahead of schedule, and is a significant milestone in the programme to provide electrification of the railway to Wales.
In a five-year contract worth up to £100 million, Keltbray has been engaged as a strategic delivery partner to ABC Electrification as part of their works on the National Electrification Programme (NEP) to deliver conventional concrete auger and CHS piled foundations whilst following this up with the conventional installation of the new Series 1 overhead line equipment using bespoke road rail vehicles and resources from our Keltbray Aspire direct delivery electrification team.
Project Director for Keltbray Aspire, Warren Jones, said: "This work is part of National Electrification Programme for Control Period 5 (CP5), and I'm pleased to say we're now ahead of schedule to install approximately 1200 CHS 610mm and 762mm piles for Route Sections 8 and 9 between Bristol Patchway and Cardiff by May 2017.
"We at Keltbray are proud to be part of this major electrification programme, which is set to revolutionise the railways and bring electrification to Wales for the first time. Our job is to support the Network Rail and ABC Electrification teams by contributing to the facilitation and installation of electrification on the South Wales Mainline from the Severn Tunnel, through Newport and Cardiff, and then to Swansea."
At present, Keltbray Aspire has a team of 25 directly employed people engaged on the contract all of which have been recruited from the South Wales area to manage, plan and execute the works, during weekend and midweek night possessions to minimise disruption for passengers. The team will continue to grow with the first recruitment of local lineworkers being employed in January. Once they have undergone their initial safety and track training they will continue to be trained to Network Rail's OLEC standard at Keltbray's own state of the art overhead line electrification training centre in Crewe.
"We are committed to investing in the communities where we work, and so have recruited our first intake of Lineworkers locally. Many of them have been made redundant from the power industry and have transferrable skills which allow us to train a core quickly and efficiently. We will of course continue our recruitment programme with more locally sourced labour and apprentices as we support the ABC team and leave a legacy in Wales for existing and future electrification works. Once the trainee lineworkers have completed our initial six-week accredited intense training course, they will be assigned a mentor to ensure safety and development of their OLEC skills further," concluded Warren.
According to Programme Director for ABC Electrification Limited, Brian Fisher, "this was a great achievement by everybody in the team. Our speedy installation methods and high levels of control show we are world class. During the same 50-hour possession where Keltbray installed the 250th pile, we also demolished Farm Road Bridge and installed 40% more ATF fixings than planned in the Severn Tunnel; again significantly advanced the programme," he explained.
Dan Tipper is Area Director for GWRM Wales for Network Rail: "The works completed demonstrate the capability of the GWRM Wales Electrification Project team, taking key learning from the wider UK Electrification Programme and applying them for successful delivery. Network Rail and our industry partners are committed to developing the skills and capacity of the local supply chain and workforce in the delivery of all aspects of the Electrification scheme in Wales," he said.
About Keltbray
Keltbray Group dates back to 1976 and is a UK leading specialist business, which offers engineering, construction, demolition, decommissioning, remediation, rail and environmental services. The company is a key player in developing and maintaining Britain's built environment and operates in highly regulated environments; making sites ready for new infrastructure and developments.
Customers trust in Keltbray's nearly 1,000 people to deliver projects safely, on time and budget, and with care for the environment and our communities.
We invest heavily in our plant and assets and take pride in offering design-led services and innovative solutions using our own, well trained and fully qualified staff.
From power supply upgrade on the West Coast Main Rail Line to regeneration at Earls Court and Battersea in London, and the Waterfront in Dundee to decommissioning at Trawsfynydd Nuclear Power Station in Wales, Keltbray provides stand-alone or fully integrated services to meet the needs of diverse and complex projects.
Our in-house capability, from engineering design to delivery and training commitment focuses the business on excellence and on providing value to our clients to foster long lasting partnerships.
Keltbray undertakes work to award winning standards, is accredited to national and international standards with a commitment to training and development.