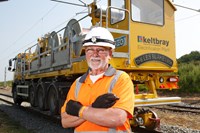 Keltbray Aspire, which is part of Keltbray Group and provides electrification services on the rail infrastructure, has invested nearly £6 million in new rail electrification plant over the last two years. Within this investment is a new and unique, multi-million pound overhead line electrification wiring unit that will provide increased safety, efficiencies and productivity to the UK's national electrification programme. It represents a multi-million industry investment, and has been made to meet the growing demand for Keltbray's rail services and long-term pipeline of work.
The road/rail SRS/ZECK wiring unit is the only one of its kind in the UK, and provides a service that can run out contact and catenary wires at full tension. This means it halves the time it takes to install conductors for rail electrification using traditional methods.
"Traditionally, it requires three six-hour shifts to fully install and register the conductors on a tension length, the new wiring unit now allows a complete installation and fully register in one 6 hour working shift. Needless to say, this saves manpower and equipment, but more importantly, it enables us to reduce possession time and minimise track closures to the benefit of rail companies and passengers. Everybody wins!" explained Director of Keltbray Aspire, Martin Brown.
Keltbray recently marked the commissioning of the new wiring unit with a ceremony that saw it be named after long-standing employee Les Blake, who came up with the concept for the new machine and led the team that developed the equipment specifications.
"Les has worked with rail overhead line electrification for 54 years and is well known in our industry. He has worked on nearly every major electrification project in the UK since 1962, and despite being in his 70s, he is showing no signs of slowing down. Besides being out there at the coal face, working night shifts and supporting our projects, Les is an expert on problem solving and innovation. He is also a fantastic mentor for our apprentices. Beyond Keltbray, Les acts as a key industry adviser on projects worldwide, and most recently his knowledge and expertise have been sought after to support projects in Australia," said Martin.
The chassis for the new Les Blake machine was built in Sweden by SRS Sjölanders AB while the wiring unit was developed by German-based company ZECK before being shipped to the UK. The conception and design of the wiring unit was based on a 32-tonne road rail chassis and is a result of Les' years of experience and his continued drive to make our industry safer and more efficient.
"Les is always exploring new ways to improve safety and productivity, and forever looking to make innovation happen. His drive and enthusiasm never seems to diminish, and he is a great asset to the Keltbray team. It is only fitting that his contribution to our continued success is recognised in the naming of this new wiring unit, of which he was key to the development of this fantastic machinery ," concludes Martin.
The new Les Blake machine is Network Rail approved and has been working to support installation of overhead line electrification for AmeyInabensa on Great Western, and will soon be relocated to Maidenhead for work on Crossrail.
It will also be on display at Europe's largest outdoor rail show, Rail Live 2016, which is held at Long Marston Airfield in Warwickshire from 22 to 23 June, and where Keltbray will be exhibiting at K9.
About Keltbray Group
Keltbray Group is the UK's leading specialist business, which offers engineering, construction, demolition, decommissioning, remediation, rail and environmental services. The company dates back to 1976, employs more than 1,000 people, and is a key player in developing and maintaining Britain's built environment. Keltbray provides services to meet the needs of diverse and complex projects, and its well qualified people take pride in delivering projects safely and efficiently, on time and to budget, and with care for the environment and our communities. Keltbray has contributed to a range of high profile construction projects including The Shard, Queen Elizabeth Olympic Park Stadium, St Pancras International, Crossrail, Earls Court and Battersea Power Station.