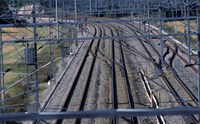 Nexans, a global leader in advanced cabling and connectivity solutions, has been awarded a 65-million-euro contract by Trafikverket, the Swedish Government's Transport Administration for the supply of optical fiber solutions. The Nexans cabling solutions, allied with Emtelle's microducts and microduct bundles, will be used in rail projects as the Swedish government continues to develop FTTX (Fiber to the X) networks throughout the country.
Today's rail infrastructures rely on high-speed and scalable communication networks. As part of the European Rail Traffic Management System (ERTMS), these networks carry data between remote locations and control centres, making it possible to monitor and optimise traffic while improving user safety. Furthermore, the highway and rail telecommunication network in Sweden serves as a foundation of trunk capacity that provides additional data transmission capacity for local telecom operators. Nexans and Emtelle will supply Trafikverket with a complete fiber optic solution, fully compatible with existing rail networks, which also meets the customer's strict requirements for the exceptional blowing performance of fiber cables into the microducts.
"Nexans is proud to contribute to the upgrade of the Swedish rail network with our innovative range of fiber solutions, building on our local manufacturing presence. And as the rail market in Sweden is in the throes of a huge FTTX expansion, we are joining forces with Emtelle to help the Swedish operators cover huge swathes of their national networks rapidly and cost-effectively with our cutting-edge solutions." said Christer Larsson, head of telecom sales for nordic countries at Nexans.
The delivery of the Nexans and Emtelle products to Trafikverket will begin in early 2019 and will be completed by 2029. The optical fiber cable solutions will be manufactured by Nexans Sweden in the Grimsås plant, while microducts and microduct bundles will be provided by Emtelle.
"By working together, Nexans and Emtelle have been able to offer a fully compatible solution for Trafikverket's rail networks in Sweden," said Colin Kirkpatrick, European Business Development Director at Emtelle. "The main beauty of our microducts and microduct bundles is that they boost operators' capacity, with minimal disruption thanks to the reduced installation time, while reducing ongoing operational costs and optimising total cost of ownership."
About Nexans

At Nexans, it is our mission to transmit the energy and data essential to the world's current and future development. Every day our employees are inspired by one purpose of bringing energy to life.