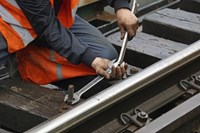 Vortok International has been awarded a large contract by Metro-North Railroad in New York for the installation of train fault detection systems. In all there will be three systems, pre-assembled into large equipment 'houses' and delivered to sites in New York State (Ossining), Connecticut (Greens Farms) and Long Island NY (Belmont Park).
The work shall include the design and furnishing of a new pre-wired house which contains a four track hotbox detector (HBD), four track wheel impact load detector (WILD) and four track automatic equipment identification (AEI)tag reader system, all systems will report back to the Operation Control Center (OCC).
These systems will need to continuously monitor and measure the wheel/rail loads produced as a result of irregularities from the rolling stock wheels and monitor passing trains for overheated bearings.
Vortok will be prime contractor and the project is due to run for 507 days with the following specific milestones. A key element of the technical proposal was use of the unique Vortok MultiSensors compared to traditional strain gauges.
About Pandrol
Pandrol has been established in the business of resilient rail fastenings since 1937. The company gained its present name from the unique Pandrol Brand Rail Clip. This simple, effective rail fastening is suitable for all applications on concrete, timber and steel sleepers and slabtrack, and for use under every type of traffic from simple industrial and mining trackwork through plantation and sugar cane railways, rapid transit and high speed passenger applications (speeds up to 330kph), to the heaviest mineral railway (up to 150 million tons/year). The Pandrol range of rail fastenings is the most widely used in the world and continues to be introduced into new markets.
The present Pandrol rail fastening system is the result of continuous development during the last 30 years. It is this and the technical support the company offers its customers which has established its envied reputation. Extensive laboratory testing and service in track worldwide on over 220 railways has resulted in a simple, reliable, well-proven system suitable for every type of track and traffic condition.
Pandrol rail fastening systems are not a commodity - they are specifically designed for each railway application. Pandrol is not just a manufacturer but a provider of engineered solutions to track problems.
Pandrol has manufacturing plants in 12 countries supplying a total of 82 markets.