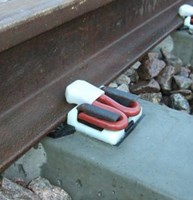 Pandrol's FASTCLIP FE fastening system has been chosen as the preferred fastening for Trafikverket's 20-year framework agreement with Swedish producers of concrete sleepers.
Pandrol worked collaboratively with concrete sleeper manufacturers Strangbetong Rail AB and Abetong AB in responding to a Trafikverket (TRV) national procurement exercise relating to concrete sleepers for Sweden's railways. The tender included delivery of pre-assembled fastening systems and under sleeper pads. The contract will cover typical annual volumes of around 400,000 sleepers.
PANDROL FASTCLIP FE is the latest evolution of elastic rail fastening system from Pandrol. It is a value engineered variant of the FASTCLIP system and can be used in all applications where FASTCLIP FC is currently used. The development of the FE system responds to commercial pressures to continually drive down costs within the railway industry, and achieves significant overall cost savings for railway operators and infrastructure contractors, without any compromise to the performance of the assembly. The new design reduces the working profile of the system whilst enhancing performance and functionality
FASTCLIP is an economical fastening designed as a total system in which all components are delivered to site pre-assembled on the concrete sleeper. Once the sleepers are laid and the rail installed, the clip is simply pushed onto the rail by means of a simple drive action. This switch on-switch off capability encourages mechanisation of the installation and extraction processes for both renewals and maintenance. Machines currently available from Rosenqvist, a Pandrol company, provide an accelerated installation capability of up to 70 sleepers per minute.
In addition to the fastening systems, Pandrol will also be supplying under sleeper pads (CDM-USP), via subsidiary company Pandrol CDM Track. The under sleeper pads are tailor-made resilient systems designed to reduce track maintenance, increase the quality of the track and provide vibration mitigation by fixing elastic elements to the bottom surface of the sleepers. The CDM-USP are proven to reduce of rail corrugation, especially in tight radius curves, extending the grinding interval by at least a factor of two, while also providing vibration Insulation up to 15 dB(v).
Wayne Peacock, Pandrol's Managing Director for the EMEA region said;
"We are delighted to have secured this contract. We have a long history of working with Trafikverket and the Pandrol team placed customer focus at the heart of its efforts engaging positively with the sleeper makers to build alliances. Our bid was built on a recognition of TRV's environmental goals and will deliver value for money, sustained product quality and a high level of product support to demonstrate that Pandrol continues to be the best choice of fastening supplier "
About Pandrol
Pandrol has been established in the business of resilient rail fastenings since 1937. The company gained its present name from the unique Pandrol Brand Rail Clip. This simple, effective rail fastening is suitable for all applications on concrete, timber and steel sleepers and slabtrack, and for use under every type of traffic from simple industrial and mining trackwork through plantation and sugar cane railways, rapid transit and high speed passenger applications (speeds up to 330kph), to the heaviest mineral railway (up to 150 million tons/year). The Pandrol range of rail fastenings is the most widely used in the world and continues to be introduced into new markets.
The present Pandrol rail fastening system is the result of continuous development during the last 30 years. It is this and the technical support the company offers its customers which has established its envied reputation. Extensive laboratory testing and service in track worldwide on over 220 railways has resulted in a simple, reliable, well-proven system suitable for every type of track and traffic condition.
Pandrol rail fastening systems are not a commodity - they are specifically designed for each railway application. Pandrol is not just a manufacturer but a provider of engineered solutions to track problems.
Pandrol has manufacturing plants in 12 countries supplying a total of 82 markets.