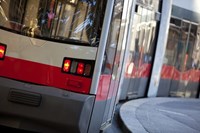 Shortly after r2p has received an order from Stadler Altenrhein AG, the daughter Stadler Pankow GmbH, follows its footsteps and places an order with r2p too.
44 vehicles for the railway network Teutoburgerwaldnetz (TWN) and the Hellerwegnetz (HWN) are to be supplied with technical equipment from Flensburg. Not only the high performance recorder R16x, but also our digital camera CD4x will be installed in this project. This order is yet again evidence of the strong relationship between Stadler and r2p.
Project Director and Shareholder, René Seliger says: "This order shows clearly that our constant investments into new technology and products add value for our customers. Based on the extensive project experiences shared with Stadler, the equipment in this order will - as always - be state of the art, which will secure long-term availability."
Stadler is a family managed company with long tradition in the industry. Worldwide more than 20 production- and service sites are producing reliable rail vehicles. Founded in 1942, the company has more than 7000 employees today.
About r2p Group
The rapidly growing r2p Group, headquartered in Flensburg, Germany, operates internationally in 27 countries with subsidiaries in Denmark and Brazil. The group cooperates closely with a partner company in Taiwan, a sales office in the United Kingdom, and local manufacturing in India.
As a market leader, we develop and distribute software and hardware for rail and road vehicles, mobile video surveillance and telemetric solutions with great passion. Our experienced Swedish investor, Alder AB, with a total annual turnover of more than 200 million euro, provides us with ongoing support for our mission